Sam Copeland (text), and Sarah Horne (illustrator), Charlie Changes into a Chicken, Penguin Random House UK, February 2019, 32 pp., RRP $7.99 (pbk), ISBN 9780241346211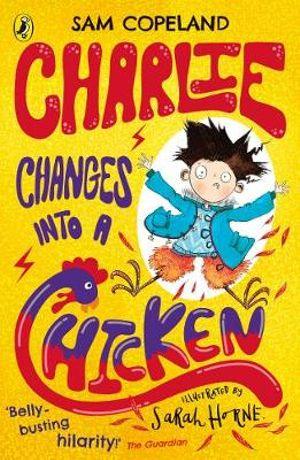 Important note: no chickens were harmed in the making of this book.
In many ways Charlie is a typical nine year old, with a group of good friends, a school bully he avoids and a role in the school play that he's not very excited about. But his 12 year old brother Henry, who he calls SmoothMove, is in hospital waiting on an important scan to find out if he needs another operation and the whole family are anxious about what is to come. After a visit to the hospital one day, the physical feelings of anxiety in Charlie become overwhelming and before he knows it he has transformed – into a spider.
This is only the first in a series of shape-changing situations that are extremely awkward for Charlie, but very funny for the reader. The only people who believe Charlie is really changing are his friends, Wogan, Mohsen and Flora, and the school bully, Dylan. Charlie's friends conduct a number of experiments to try to work out the cause of his transformations, and how Charlie might be able to control them. Dylan, on the other hand, is on the look out for a way to use the situation to humiliate Charlie.
Whilst this is a long chapter book, it has plenty of action and pace as well as humour and engaging characters, so there is plenty to keep the reader involved in the story. It's also a visually engaging book, with plenty of font changes and crazy pictures that wrap around the story in interesting ways. There is also much toilet humour, such as when Charlie as a rhinoceros has to go to the toilet rather urgently and discovers his only option is to back up to his second-floor bedroom window and fertilise the garden (fun fact: rhinoceros will poo the weight of a small child each day). Whilst the images show diversity in the children's appearances, of the five main characters only one is female. However, she is the most active and clever of Charlie's group, and definitely fits their opinion of her as 'awesome' and slightly scary.
The book and story have a silliness and chaos about it that is a lot of fun. It frequently breaks the fourth wall, talking directly to the reader and has random footnotes throughout that are self-admittedly wildly inaccurate but very funny. Wrapped up inside the hilarity and craziness is a serious message. As Charlie learns strategies to deal with his stress, his clever friend Flora points out that 'it's not what happens to you but how you deal with it that sets out the person you are'. Charlie's victory over his own fears (as well as over Dylan's scheming) makes for a satisfying ending.
Reviewed by Rachel Le Rossignol