Cal Wilson (text) and Sarah Davis (illustrator), George and the Great Bum Stampede, Scholastic Australia, February 2019, 192 pp., RRP $12.99 (pbk), ISBN 9781742762753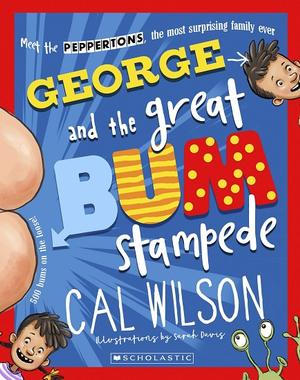 In Cal Wilson's first foray into children's books, we are introduced to George Pepperton and his outrageously eccentric and creative family who use their talents to excel at science, music, sports and coolness and rule-breaking (in the case of his brother, Poco). We then follow them through what George has modestly labelled The Worst Week Ever.
The set up for this book is fun. Many kids dream of being in a large, wild, loud family where everyone has their 'thing' as well as having each other's backs. They especially don't let the rich, stuck-up new neighbours get away with dunking their lemon-sized brother in a glass of water – rude. But things get really out of control when Poco, who flies fast and loose, convinces George to help 'borrow' their Mum's replicator for the ultimate show and tell experience and it gets into the wrong hands.
For an established independent reader this story will be an easy to follow, entertaining read that stays in the safe, G-rated zone we like for primary schoolers. If one was to compare it to the well known Treehouse series, George and the Great Bum Stampede is shorter and less complex but is just as visually entertaining for kids with plenty of illustrations and varying fonts.
Reviewed by Cherie Bell