Dav Pilkey, Brawl of the Wild (Dog Man #6), Graphix, January 2019, 224 pp., RRP $16.99 (hbk), ISBN 9781338236576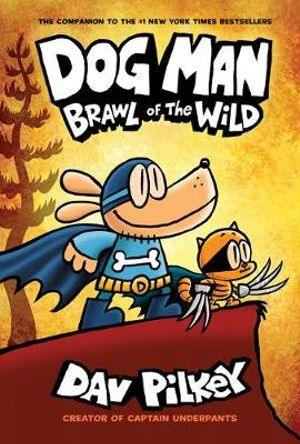 Keen fans will know that Dog Man: Brawl of the Wild is the 6th instalment in the Dog Man series. For those who aren't yet keen fans, The Dog Man series is a spin-off from Dav Pilkey's incredibly successful Captain Underpants books. The main characters in those books, George and Harold, are the 'creators' of a comic book series about a cop and a police dog who are surgically joined and then continue to fight crime as Dog Man. George and Harold have been inspired to write this particular instalment after reading Jack London's renowned novel, The Call of the Wild.  

Pilkey has kindly included a short prologue of sorts to catch up anyone who hasn't yet read the first five Dog Man books (like myself) and for the most part, it was sufficient to fill me in on the important plot arcs and characters. We have Dog Man and his friends Sarah and Chief, as well as his superhero pals: a robot called 80-HD and Little Petey the son of his original enemy, Petey.  There are also a few new enemies called the Fleas.

Kids who already love this series will find that this book ticks all the usual boxes. We see the well-known Fliporamas that Pilkey puts in his books and I know kids totally love. We see comic anger from the chief, puke and poop gags, baddies getting their comeuppance and a thinly veiled life lesson ("Everybody feels like a misfit!!!").

The comic book style may not suit every child, but others will totally love it. It is a very visual book to read, there is lots of action and the pace is fairly quick. I'm not sure many kids will feel totally inspired to tackle The Call of The Wild after reading this, but that probably isn't Pilkey's motive. More likely he is keen for them to eagerly await the continuing antics in the 7th Dog Man book due out later this year.
Reviewed by Cherie Bell