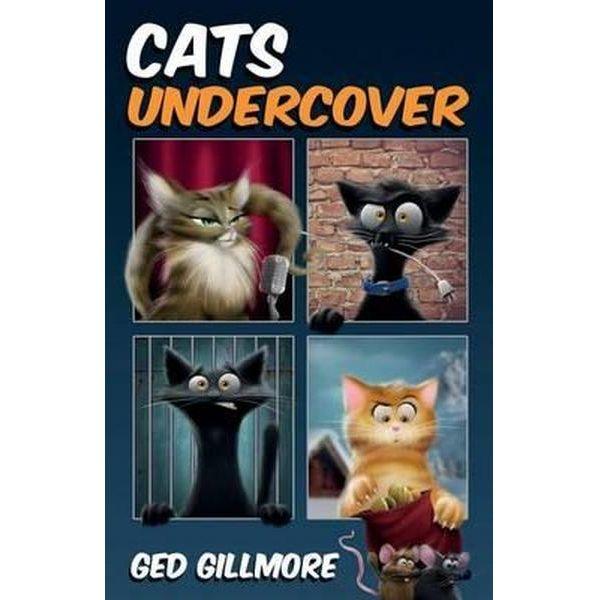 Ged Gillmore, Cats Undercover (Tuck & Ginger #2), Self-Published, 1 Feb 2017,  324pp.,  $19.99 (pbk),  ISBN: 9780994178626
Cats Undercover is Ged Gillmore's second Tuck & Ginger book, following on from his first feline adventure story Cats on the Run.  Packed full of humorous word play and crazy cat capers this title is aimed at animal mad youngsters (9 years +).
Ginger, Tuck and Minnie are three cats living on Dingleberry Bottom farm. Their life is one of undomesticated domesticated cat bliss after managing to escape their high rise prison and their former evil owners: two witches from book one.  Life really is pretty purrrfect (sorry) until the unexpected arrival of the Pongs, two more horrible people, threatening to destroy the cats' beloved home and lifestyle with their perilous human plans.
When first Ginger, then resident diva Minnie, disappear into the night, it's up to Tuck, an athletic black cat hero to go out and find them.  As winter arrives on the farm our three cat friends find themselves separated and their very own barmy adventures begin.
Before reading this title, young readers might be forgiven for thinking that a cat's life was one of cosy fireside snoozes and the occasional spot of rooftop yowling. Not only will this story obliterate that theory outright, it will plunge the reader into a feline underworld of savage sewer rats, mechanized catbots and even an audition for Kitten's Got Talent!
Ged Gillmore has a very witty, fast-paced style and has clearly enjoyed creating his crazy parallel cat universe based on his own beloved pets. With plenty of comedy and dramatic irony he weaves together narratives from the three main feline protagonists; regularly breaking from the plot for an entertaining or snarky aside to his readership.  The main characters themselves all have very different cat personalities leading to some really laugh out loud moments particularly concerning Minnie, the down-and-out diva struggling for her slice of stardom against a much younger and prettier cat.
Cats Undercover is a fairly long affair weighing in at some 300+ pages but the chapters are relatively short and punchy and the whole text is littered with dynamic font and typeface variations, jokes, quips, song lyrics (including some gangsta-rap) and a plethora of nerdy wordplay ranging from the cats' regular vocabulary slip ups, alliteration, puns, rhymes, to the hilarious choices of character names such as Fleabomb, Bumfluff, Sue Narmi and Corporal Punishment.
Given the length, the regular prompts from the author to "look it up" when he uses uncommon or 'old fashioned' words and the healthy dose of adult friendly humour, Cats Undercover would lend itself well to a shared reading experience, perhaps read aloud to children by a parent or teacher, one who can do the variety of character dialogue and accents justice.  This is a great read for more confident middle graders who enjoy language play, funny adventures and, of course, love cats!
Reviewed by Lisa Hoad