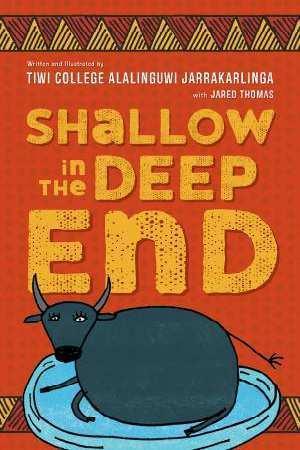 Tiwi College Alalinguwi Jarrakarlinga with Jared Thomas,  Shallow in the Deep End,  Koala Book Company,  1 June 2017,  64pp.,  $12.99 (pbk),  ISBN: 9781742762692
Erica has always wanted a dog, but instead her Dad brings home a baby water buffalo. Not to be deterred, she names it Shallow and treats it like a dog. Soon Shallow befriends a real dog called Bruno and the two of them get into all sorts of mischief.
Shallow in the Deep End was written and illustrated by students at Tiwi College Alalinguwi Jarrakarlinga with the help of Jared Thomas and the support of the Indigenous Literacy Foundation, and gives a unique perspective and insight into indigenous life on the Tiwi Islands.
'…I rode my BMX bike along the beach … to find Dad who was at work, working as the park ranger … and handed him some Turtle soup that I got from my big cousin.'
For many kids in Australia the idea of eating turtle soup would be foreign, not to mention the possibility of finding a water buffalo and raising it as a dog — which seems almost mythical!
Each chapter is its own little story which makes it great to read in class. In one story Shallow destroys a paddling pool, in another Shallow and Bruno have fun on the school trampolines, and the big finale, Shallow infiltrates the biggest event on the Tiwi Island – the football grand final.
The language is simple and appropriate for the intended age group and the illustrations have been drawn by the authors themselves.
A culturally rich, heartwarming junior fiction book, full of fun.
Reviewed by Renee Mihulka