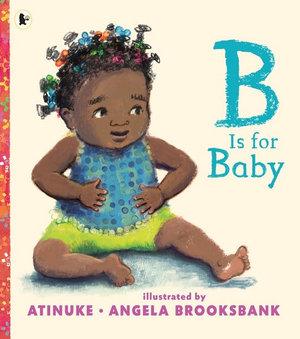 Atinuke (text) and Angela Brooksbank (illustrator), B is for Baby, Walker Books Ltd., April 2019, 40 pp., RRP $24.99 (hbk), ISBN:  9781406371086 
Adventure with baby, in a story told mostly with B words!
Thank you Atinuke, author of this beautiful book, that has us sharing the journey of Baby's brother on his bike, on his way to see Baba… with bananas in his basket. Little does he know his cheeky baby sister is also joining him along his travels! When and how will he discover the presence of his playful sibling companion?
Set in West Africa; there are many natural wonders to witness on the way to Baba's place. Enjoy watching the siblings as they experience their travels from unique perspectives.
The stunning illustrative style by Angela Brooksbank, expresses such vibrancy, with coexisting warmth. She wonderfully embraces and celebrates West African scenery, vegetation, animals, and culture.
An immensely rich book sharing experience for children, building new vocabulary, and varied appreciation.  The cleverness of storytelling in very few words – most of which start with the letter "b" is also of noteworthy merit. 
I adore this book at so many levels! Each turn page gifts anticipation of; what the next 'b' word is going to be; baby's cheekiness, and the cultural, natural beauty shared. 
Age recommendations from 3+; however, it is certainly a book that can be interactively shared with younger ones too.
Reviewed by Sonia Bestulic