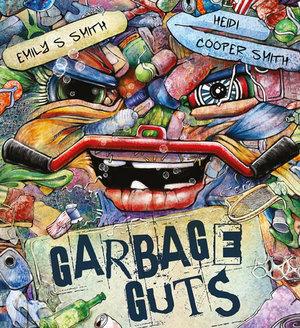 Emily S. Smith (text) and Heidi Cooper Smith (illustrator), Garbage Guts, Larrikin House, April 2020, 32 pp., RRP $24.99 (hbk) ISBN 9780987635426 
Garbage Gutshttps://booktopia.kh4ffx.net/P570q by Emily S. Smith and illustrated by Heidi Cooper Smith is the engaging tale of a dreadful beast made up entirely of garbage and living beneath the waves of the North Pacific Ocean.  
Unlike the other sea creatures, Garbage Guts does not care about his environment or his neighbours and sets about a wicked scheme to rid the ocean of its precious wildlife. Although Garbage Guts is determined to get his own way, a nasty surprise and a taste of his own polluted medicine convinces him to change his ways for good.
In the North Pacific Ocean lives a monster made of trash,
A hungry, greedy meanie with a handlebar moustache.
And though his name is Garbage Guts, he's often called Big G.
He blobs about destroying all the oceans and the seas.
Written in rhyming text and told alongside Heidi Cooper Smith's detailed full colour illustrations this exciting tale is sure to keep little ones excited and curious. Garbage guts himself is a wonderfully intricate image with a menacing yet comical appearance which my children absolutely loved.
This title comes with a 'Recycling Revolution' poster and explores the themes of environmental awareness, being mindful of others and the importance of recycling. In a school or home setting, this book could be a great starting point for discussions around the impact of waste on the environment and how we can all help save our planet.
Reviewed by Lisa Mercer