Sue Whiting and Annie White answer some questions about their latest book Good Question: A Tale Told Backwards. Thanks to Sue, Annie, and Walker Books Australia for this interview.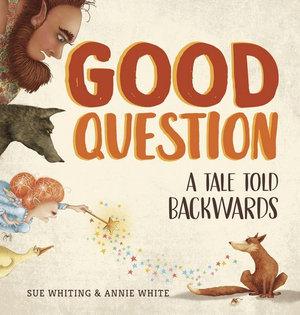 Shelley Stephens interviews author Sue Whiting
This was such a fun read! How did you come up with the idea? 
Thank you. I am so glad you enjoyed it – it was a fun one to write. The story idea came to me quite unexpectedly and very organically when I was scrolling through a digital photo library and spotted a photo of a gorgeous red fox perched high in a fir tree. It was staring at me with its cunning foxy eyes and I asked myself the simple question: Why is the fox up in the tree? The answer that shot back to me was: He's hiding, of course, from the giant. That led me to ask: Why is he hiding from the giant? The answer: Because he stole the giant's golden goose. And it was through this simple question and answer dance in my imagination that the story emerged.
Reverse chronology can be quite challenging to write; I can't even imagine how this is developed for a picture book. What made you want to write the story in reverse? 
The reverse chronology certainly threw up many challenges. It most definitely made it more complicated to tell the story in a way that would make sense to the reader and it took many attempts before I was able to work out the best way to tackle it. But the story came to me in reverse so I felt compelled to honour this and persevere. Besides, I love playing around with structure, so the idea of having the story unfold backwards was very appealing, especially when I imagined the fun it could be to share with young readers. Once I handed the reins over to the fox character – who was quite the raconteur – and let him tell his story in his own way, the idea came together. The reverse chronology threw up even more challenges for Annie White with her illustrations though, but luckily Annie was on board with the concept too and was determined to make it work.
What were some of your LEAST favourite fairy tale or nursery rhyme characters as a child? 
I was never fond of Puss in Puss in Boots. I'm not sure why, but he always annoyed me, always seemed too big for his boots! And the witch in Hansel and Gretel scared the living daylights out of me.
What made you fall in love with writing for children? 
As a young primary school teacher in the eighties, I fell in love with children's literature, in particular children's picture books. It was this passion, and the joy I experienced sharing picture books with my students that led me to wanting to write my own. It just took me a very long time to summon the courage to have a go!
If you were stranded on an island, what three books would you want with you? 
This, of course, is an impossible question to answer. But my three favourite books of all time are: To Kill a Mockingbird, by Harper Lee, The Book Thief, by Markus Zusak and A Monster Calls by Patrick Ness. Three books with lots of heart and exquisite writing that I imagine would feed my soul for some time. 
Read Shelley Stephens' review of Good Question: A Tale Told Backwards
Shelley Stephens interviews illustrator Annie White
Your illustrations have a wonderful nostalgic feel about them. When did you realise you wanted to tell stories with pictures? 
I think the illustrations for Good Question have a nostalgic feel because they are all about fairy tales that have been with us for centuries. I've always enjoyed telling stories with pictures. I often made small picture books for my friends at school. Stories and music trigger images that I have to put down on paper. 
Colour plays an integral part of how a story is received. How does this process evolve for a book you are working on? 
Colour is one of the most powerful elements in visual story telling. The mood and emotion of a story are instantly set with the choice of colour palette. When I work on a story, I look at the atmosphere and feeling I want to create in the overall text as well as the individual character of each spread. A gloomy forest is painted in cool colours; a page of action is shown in warm colours with sharp shadows; and a page of magic and transformation is painted with subtle shades set against a night-time sky and contrasting stars. 
What are your favourite colours? 
Smoky blue, Alizarin crimson, Cadmium yellow. 
Have you ever wanted to write and illustrate a picture book? 
I have written and illustrated two picture books: Clementine's Walk, which is about an ever-hopeful dog intent on finding someone to take her on a walk and Clementine's Bath, which is about a rather smelly dog desperate to escape the bath her family are insisting on. I usually have a story I am working on. 
If you could be any nursery rhyme or fairy tale character, who would you be and why? 
Alice from Alice in Wonderland. Who wouldn't want to tumble into a world of nonsense where normal rules of logic don't apply? How wonderful to meet so many magical creatures and drink endless cups of tea with the Hatter.