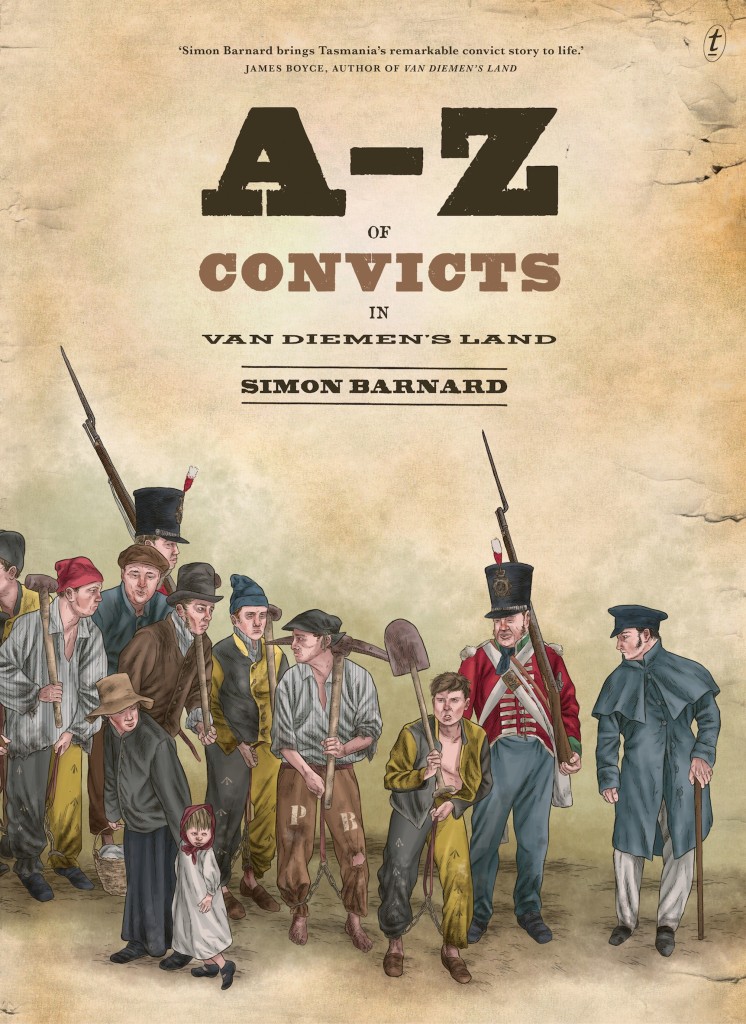 BARNARD, Simon A-Z of Convicts in Van Diemen's Land Text, 2014 88pp A$45.00/NZ$55.00 ISBN 9781922079343 SCIS 1676106
This beautifully illustrated large-format book provides an enthralling journey through the personal histories and daily lives of the men, women and children who were transported to the British penal colony of Van Diemen's Land between 1803-1853.
Simon Barnard grew up in Tasmania, and his fascination with its history is clearly evident in the painstaking level of research that underpins this book.  To ensure the authenticity of his drawings, he accessed a wide range of 19th century source materials such as physical objects, photos, sketches, architectural plans and written archives.  At times Barnard even made replicas of clothing and other items to help with the accuracy of his images.  Where possible, convicts were drawn just as described in contemporary records – right down to their scars, tattoos and missing teeth.
Barnard's impressive craftsmanship has produced a truly handsome book design that pays loving homage to its 19th century sources.  Several double-page spreads showcase beautifully rendered isometric cross-sections of structures such as a Female Factory, Gaol, Hospital, Hulk and Watch House.  Elsewhere, delicately rendered drawings in muted colours bring to mind contemporary watercolour illustrations, while the coloured backgrounds on many pages suggest the yellowed leaves of a well-thumbed colonial document.
As to the text itself, the book follows an alphabetical format and covers all aspects of a convict's life through general themes such as food, clothing, shelter, health, work, crime, punishment and death.  Barnard brings these topics vividly to life through a series of biographical – and often hair-raising – vignettes.  For instance, under 'Bushranger' we read that Michael Howe was bludgeoned to death and his head hung from the gaol gates, and that Thomas Jeffries took part in the cannibalisation of two fellow escapees.  As well as the grisly, there is the simply extraordinary: convict Catherine Henrys absconded, dressed as a man and worked as a timber splitter.  Later recaptured, she escaped from her cell by cutting the bars with a sharpened spoon, then scaled a wall and came down the other side using a blanket.
Each page is filled with meticulously researched facts and figures.  Barnard covers everything from the Gallows, Gibbet and Graffiti to Leg Irons, Leisure and Love Tokens.  Some of his material is quite funny, some of it heart breaking, but all of it is absolutely engrossing.  Rarely discussed aspects of convict life, such as prostitution and homosexuality, are also touched on in a matter-of-fact way, while the lives of women and indigenous people are treated with equal respect.  A map of Van Diemen's Land, glossary, table of weights and measures, selected bibliography and reference to online teaching notes round out the book's content.
School students often complain about the dullness of Australian history.  Barnard's highly entertaining book is the perfect antidote to the usual sober textbook treatment of the convict era.  Rich in historical detail and filled with true stories that are both gruesome and compelling, this book should appeal to teachers and teenagers alike.
A wonderful book that is very highly recommended for ages 12 and above and school libraries.
reviewed by Roslyn Kirk