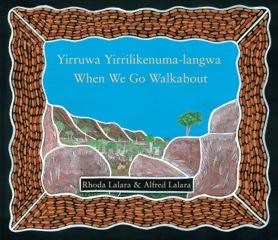 LALARA, Rhoda (text) Alfred Lalara (illus) Yirruwa Yirrilikenuma-langwa, When We Go Walkabout Allen & Unwin, 2014 unpaged $24.99 ISBN 9781743314562 SCIS 1648933
Produced as part of the Emerging Indigenous Picture Book Mentoring Project, this book is written in both English and the Anindilyakwa language of the Warnindilyakwa people of Groote Island.  Placing the indigenous language side-by-side with English provides a rich and thoughtful context for the book as it explores the natural wonders to be found during a walkabout.
Talented indigenous artist Alfred Lalara uses traditional Groote Island line work as the cornerstone of the memorable and unique illustrations which capture the earthy tones and large spaces of the Australian landscape.  His wife, Alice Durilla, has created the raak cross-hatching for the endpapers and borders which complement the illustrations.
In the style of the true picture book, the text is sparse and simple, allowing the illustrations to tell the story.  The text follows a pattern that suggests something' is crawling, staring, hiding etc. then revealing what that something is in larger font and with an exclamation mark.  This revelatory style begs for the book to be read aloud and for the audience to chorus the reply thereby inviting participation in the language learning process.  There is a sense of journey through the landscape as the various animals and natural features are discovered and a sensitivity to the beauty and diversity of the flora and fauna is also promoted.
With its striking front cover, rich earthy tones and strong indigenous influence, this is a striking and captivating picture book suitable for pre-school and junior primary children.  Its quality production on gloss paper, beautiful artwork and positive themes make it a most attractive text suitable for any school library.
reviewed by John Nolan