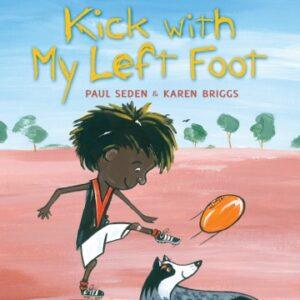 SEDEN, Paul (text) Karen Briggs (illus.) Kick With My Left Foot Allen & Unwin, 2014 unpaged $19.99 ISBN 9781743313442
To teach the concept of left and right, the creators of this picture book have blended the instructional content with the fun of Australian Rules football.  Set against the red dust and broad, blue sky of the outback, a young indigenous boy puts on his football socks and boots with the right/left distinction being clearly identified.  These initial impressions are reinforced by illustrations depicting the boy and his dog in a series of running, bouncing and catching manoeuvers that further distinguish the two sides of the body.  When he tries to kick the ball with his right foot the results are dismal.  Reflecting on his poor kicking, he tries with his left foot and the ball triumphantly flies straight through the goals and the boy happily accepts his left-footed preference.
The enthusiasm of the young boy for football is conveyed by his constant movement as he kicks, dodges and bounces his way across the pages with his dog eagerly running beside him and joining in the fun.  Karen Briggs' watercolour illustrations capture the rich colours and sparse landscape of the outback, while the clever use of double page spreads further enhances the sense of vast open space.  The simple text is written in a large, clear font and on many pages the illustration alone is enough to tell the story and convey the emotional state of the boy as he moves from disappointment with his right foot skills to exultation in his left foot abilities.
Kick With My Left Foot is a wonderful way to introduce pre-school children to the concept of right and left and to the notion that having a preference for using the left hand or foot is not a problem.  It is a fun filled and captivating picture book that showcases the value of the Emerging Indigenous Picture Book Mentoring Project.
reviewed by John Nolan