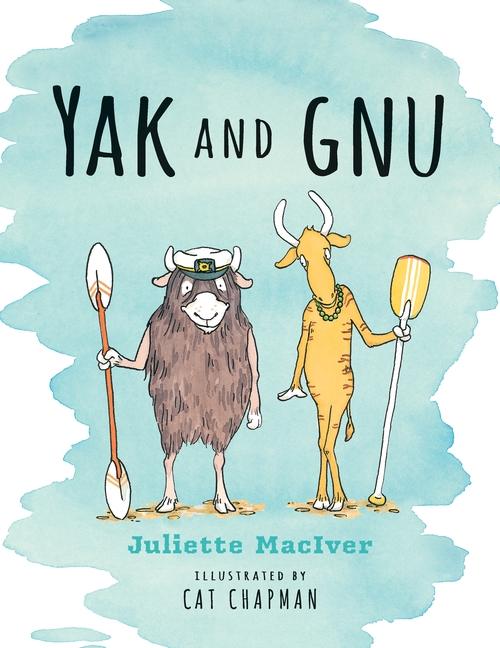 Juliette Maciver (text),  Cat Chapman (illustrations),  Yak and Gnu,  Walker Books, March 2015, $24.95, 32pp.,  ISBN 9781922077684
Children's picture books are replete with unlikely friendships among animal characters. Immediately, the seemingly impossible pairings elicit amusement and stimulate curiosity about how the characters can possibly get along. A classic of the genre is William Steig's Amos and Boris – a mouse and a whale. Here New Zealand author Juliette MacIver has paired an Asian yak with an African gnu; there they are on the cover, paddles in hand ready for a canoe trip downriver to the sea.
Such a lovely prospect, a quiet paddle; just two friends together enjoying the serenity of the river. In rhyming text that begs a jaunty aloud-reading, off they go: "No one else but you and me can float a boat or sail the sea." However, progressively they find a veritable zoo of animal species all out on the river in various craft equally enjoying a day on the water and ruining their solitude – 'a goat in a boat, a laughing calf aboard a raft, a stout pig afloat on an outrigger boat, …' On they proceed, more and more disappointed as the story takes on a counting dimension until they reach the sea. In a fitting sunset finale, a flotilla of silhouetted watercraft behind them, they realise that it's not their singularity on the river that counts but the specialness of their friendship.
Cat Chapman's ink and watercolour illustration complements the story very well with a great sense of fun and a bold and simply depicted narrative progression spread-by-spread down the river, just right for infant readers.  Classroom Ideas are available on the Walker Books website.
reviewed by Kevin Steinberger