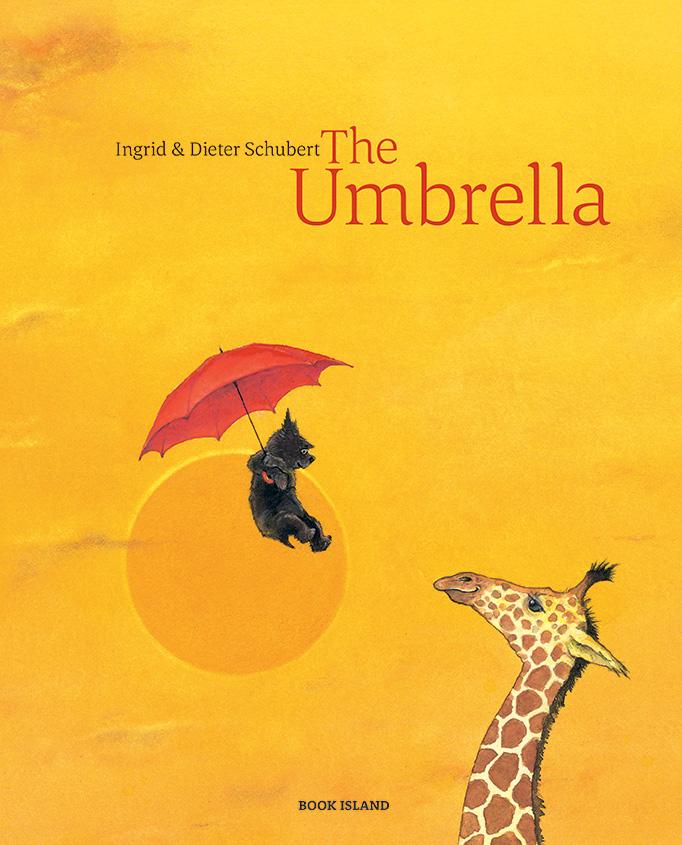 Ingrid and Dieter Schubert,  The Umbrella,  Book Island, March 2015, $19.45 (pbk),  40pp.,  ISBN 9780994109859
Dutch picture book creators, Ingrid and Dieter Schubert, have quite made textless picture books their patch. Typically, their latest wordless story takes their animal character on a fantastical adventure of much drama, an abundance of incidents and a great variety of landscapes, all depicted from creative perspectives near and far.
The visual narrative begins on the front endpapers with a little terrier, in wind-blown woods, coming across a folded umbrella propped against a tree trunk. A cat stands by, watching. On the title page, having opened the umbrella, the little fellow is lifted off his feet in a swirl of leaves; the adventure begins. Thereafter, progressing through the spreads towards the end of the book, the dog is carried over geographically diverse landscapes in fair weather and foul, occasionally landing, but always on course to drop back down again onto his familiar rural house and woods where his feline friend ultimately awaits him.
There is a sheer wealth of detail for little readers to linger over and encourage their own stories. Always instantly discernible, however small in the vast aerial landscapes, is the red umbrella. The terrier is up in a cloudscape of fantastic forms, he soars over the populous African veldt, sees beneath the waves into a marine wonderland, hitches a pelican ride to safety from spear-throwing natives in an Amazonian-like jungle, drifts over polar icecaps. Occasionally he lands to find himself in close-up exciting circumstances such as a crocodile ambush, bobbing on mountainous ocean waves, swinging with monkeys in a vine jungle, zooming down snowy slopes on his upturned umbrella. The back endpaper invites readers to ponder the suggestion offered by the cat examining the umbrella which is once again propped against the tree. A marvellous picture book that will repay many readings. It is perhaps ironic that such textless books are invaluable in language development in children, stimulating as they do young reader's own verbal narratives from the pictures.
reviewed by Kevin Steinberger