Emma Bowd (text) and Tania McCartney (illustrator), Wonderful Shoes, Windy Hollow Books, May 2021, 32 pp., RRP $25.99 (hbk), ISBN 9781922081988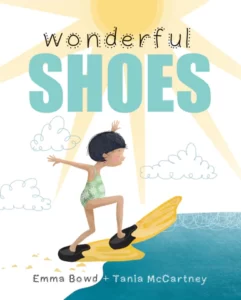 "The world is full of wonderful shoes. So many to play with. So many to choose…" _
And so begins a clomping, stomping, delightful romp as children in different settings walk about in a variety of shoes made for bigger feet. It is a joyous celebration of uninhibited child's play.
The rhyming text is minimal, and its steady beat ensures a book that is a pleasure to read aloud. Words are carefully positioned on each page, with adjectives highlighted in a different colour and font style. The use of onomatopoeia and repetition is an enthusiastic invitation for children to join in the chant, and is in a bold, large font.
Bright, engaging illustrations with clean lines draw the reader in, and white space has been used very well to allow the focus to be upon the action. The children at play remain central throughout Wonderful Shoes as adults are only seen from the neck or waist down. They are present but not fundamental to the story. Lovely endpapers of various sock designs are both a fun introduction to the story and perhaps an opportunity to explore for further play.
These two key elements of words and pictures are perfectly balanced and combine to make an engaging, fun read that would be highly relatable for children and adults alike.
Wonderful Shoes is perfectly suited to 0-6 year olds. It would make a beautiful addition to early learning centres, preschools, and preparatory classrooms as well as in the homes of little people.
Reviewed by Bronwyn Joseph (Early Childhood Judge 2022)