Mark Wilson, Rachel's War, Hachette Australia, May 2021, 32 pp., RRP $26.99 (hbk), ISBN 9780734420114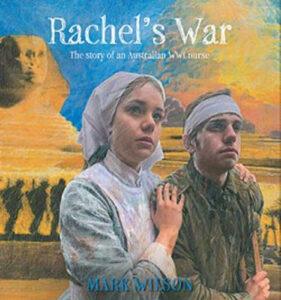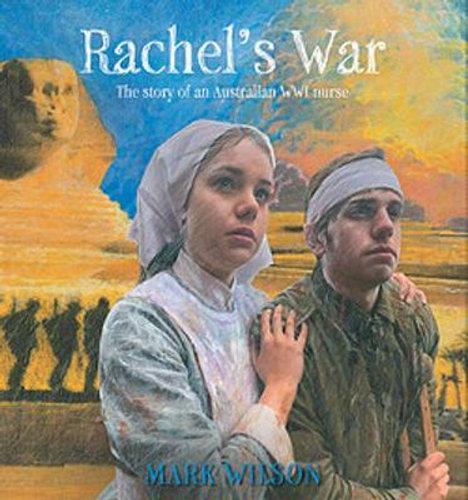 Author and illustrator Mark Wilson, once again, does not disappoint. Primary readers will turn the pages wanting to know 'what happens next' in this exquisite, simply told, well-researched personal story that depicts the role of Rachel Pratt, a nurse on the battlefields of WW1. Her frustration and exhaustion (as part of an under-appreciated military unit) are clearly shown; and the choice of words and phrases distinctly create an authentic character.
Wilson's beautifully executed illustrations vary in style, and include pencil sketches, paintings and drawings, in both B&W and color, in high gloss. They all enhance understanding and invite readers to look closer – there is a lot to see and explore. They also successfully reflect the changes in mood as the narrative progresses. The artwork and text are well integrated; and combined with the clear language, the multi-layered perspectives are effectively revealed. A page featuring panels in graphic novel style is particularly impressive, as it gives a concise 'war summary' from a nursing perspective, and could serve well as a conversation starter on what war 'means'.
The settings are clear (Australia, Europe, Middle East), in language and imagery. The violence of war is creatively and effectively shown through the color shadings and sharp lines throughout – and the delicate, wistful Flanders Fields imagery in the end papers sits in sharp contrast. The final double-page spread makes a big impact as it not only details the WW1 'nursing facts' (known and unknown), but it also provides biographical context to the overall 'human' story.
The production quality of this information book is excellent and is a valuable addition to Wilson's ever-growing catalogue of Australian military history inspired picture books.
Reviewed by Alida Galati (Eve Pownall Judge 2022)