Tanya Hennessy (text) and Leigh Hedstrom (illustrator), Drum Roll Please, It's Stevie Louise, Allen & Unwin, May 2021, 184 pp., RRP $14.99 (pbk), ISBN 9781760526412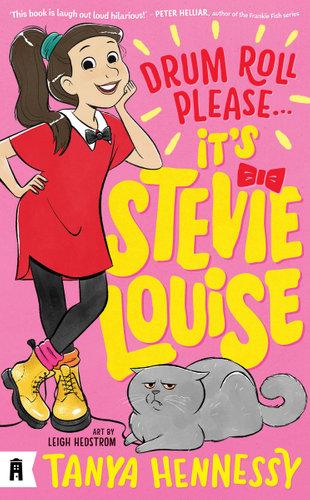 Drum Roll Please … It's Stevie Louise is a funny, light-hearted junior fiction title from comedy sensation, Tanya Hennessy. It will appeal to readers who love humorous fiction by writers such as Peter Helliar and Anh Do.
Stevie Louise is a lovable 12-year-old with entrepreneurial aspirations. She's confident, funny and the leader of the pack. She's got a lot of attitude and she always wears her gold boots (because that's where her confidence comes from — or so she believes).
Stevie encourages all the kids in her street (the Brooke Street crew) to join her in forming a performance troupe. The story that follows is a hilarious journey as Stevie and her friends attempt to pull together their performance. There are lots of ups and downs along the way, with excitement, disasters, and costumes that readers will love.
Drum Roll Please … It's Stevie Louise is comedian Tanya Hennessy's first foray into fiction. Best known for her radio work and stand-up comedy, Tanya moves effortlessly into junior storytelling creating a group of characters with Stevie at the helm, who are just asking to be developed into a series.
The publisher has recommended Drum Roll Please… It's Stevie Louise for 7-11 year olds. I believe it is more suited to the younger end of that age-group. The story is easy to follow, and an abundance of illustrations will help less able readers follow the action.
Reviewed by Caroline Arnoul