Bobbie Peers (text), Tara F. Chace (English translation), William Wenton and the Secret Portal (William Wenton #2), Walker Books Australia. 1 May 2018, 224pp., $14.99 (pbk),  ISBN 9781406371710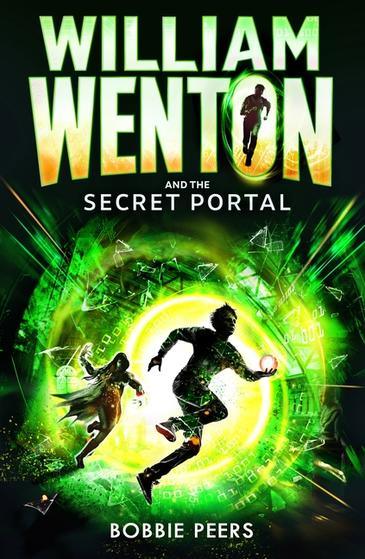 Rich in clever twists, ancient mysteries and the technological gadgetry of a futuristic world William Wenton and the Secret Portal will have you wavering between finding out what is on the other side of the portal and saving the world.
The greatest codebreaker of all time, 12 year old William Wenton, suffers a mysterious seizure on live TV, so the Institute for Post-Human Research take him back under their protection to test his luridium, the high-tech metal coursing through his veins which gives him exceptional code breaking mental powers.
No longer a school for promising codebreakers, the institute has become a prison for William's nemesis, Abraham Talley, who has been cryogenically frozen and stored in the institute's basement. Now, most of the scientists and agents have been sent home and the few remaining are afraid to walk the hallways.
When an ancient artefact mysteriously disappears from the Institute's Depository for Impossible Archaeology, William is caught once again in evil's path. From Norway to hidden crypts under London and then to the heights of the Himalayan mountains William races to prevent an enemy from opening an ancient portal of immense power.
Bobbie Peers is an award-winning film director and scriptwriter. The first book in the William Wenton series won the Norwegian Ark Children's Award and Children's Book Award and has already been translated into 30 different languages. There is even discussion of an upcoming film.
I was caught in the intrigue of this story from the first chapter and in awe of the skilful translation by Tara F. Chace but, unfortunately, the author's repetitive dialogue, musing questions and the poor character development slowed my enjoyment after the initial energy of the opening chapter. The tension builds steadily through the story with secrets and betrayals but I was disappointed that, despite being about code-breaking, there were no codes in the book for the reader to solve and only minimal descriptions of the intuition William used to solve the vital codes.
Although rich in clever twists, ancient mysteries and the technological gadgetry of a futuristic world, William Wenton and the Secret Portal was fairly predictable. However, the predictability combined with the funny moments, good pacing, simple language and short chapters of this book make it a good choice for reluctant or inexperienced readers.
Suitable for science fiction fans 8-12 years and readers of Eoin Colfer's Artemis Fowl series.
Reviewed by Sharon Smith