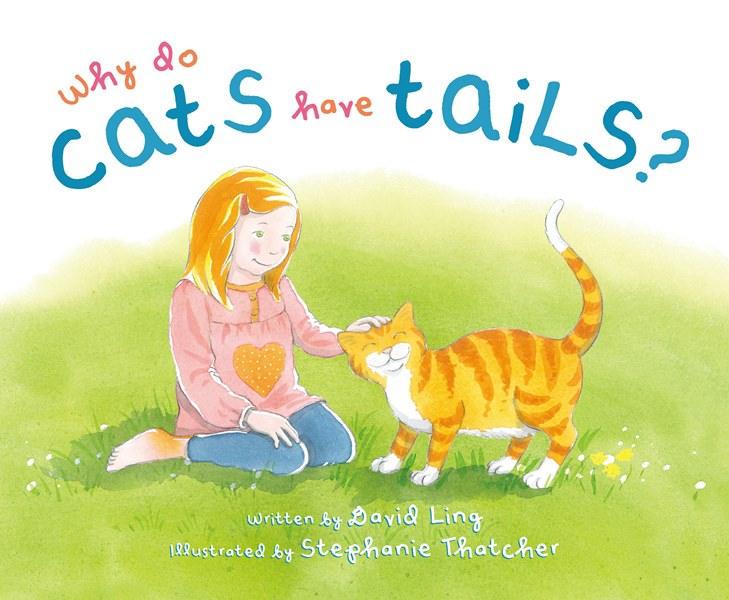 David Ling (text),  Stephanie Thatcher (illus.),  Why Do Cats Have Tails?,  Starfish Bay Children's Books, May 2016, 32pp.,  $23.99 (hbk), ISBN 9781760360085
Why Do Cats Have Tails? will certainly win the hearts of grandparents – the target purchasing market for this book – for its beautiful watercolour illustrations by Stephanie Thatcher and its delightful read-out-loud text by David Ling.
Prompted by the question,
"Grandpa, why do cats have tails?"
this book is an easy read about animals and their different abilities, told with fun and a little mischief.  Grandpa is an affectionate fellow who likes to tease his grand-daughters while making them think about the question they have asked, rather than answering it directly.
It's a journey of discovery for the little girls who enjoy the fact that they are 'educating' Grandpa to help find the answer to their important question.  In the same way, young listeners will enjoy being taken on this journey to find out exactly why cats have tails – and laugh at Grandpa's silly suggestions.
Affection, curiosity, love, kindness and a bit of well-intentioned frustration, are beautifully depicted in the characters and animals of this charming gentle book.  What a great addition to family reading time.
Reviewed by Jennifer Mors