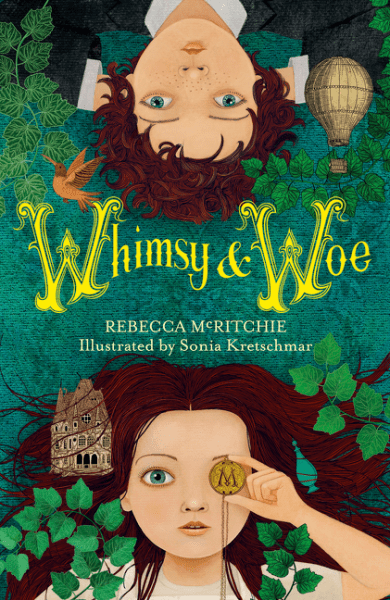 Rebecca McRitchie (text),  Sonia Kretschmar (illus.), Whimsy & Woe, Angus & Robertson/HarperCollins Australia, 21 August 2017, 416pp., $24.99 (hbk), ISBN 9781460753040
When the thespian parents of nine-year-old Whimsy and seven-year-old Woe Morduant disappear, they find themselves living a life of drudgery at the boarding house of their Aunt Apollina. After three years of endless chores the children have almost given up hope of ever seeing their parents again and manage to escape in a final attempt to locate their family. Whimsy and Woe are truly innocents abroad with their only plan being to seek out other thespians in the faint hope of finding some clue that will lead them to their parents.  They are embroiled in a series of extraordinary adventures and misadventures, from being trapped in a deadly swamp, to attacked by a pirate in an antiques shop. Nasty Aunt Apollina and the scheming Mr Solt have vengeful plans for the two escaped children and pursue them wherever they go.
Whimsy and Woe reads like a fruity Victorian melodrama with dastardly villains, innocent victims and drama following upon drama as the children meet a string of strange and bizarre characters on their quest. This sense of a story from a bygone era is reinforced by the archaic-looking end papers, descriptive chapter headings in vintage style font and a cloth cover that is both traditional in appearance and unusual in design. Sonia Kretschmar's striking black and white line drawings also superbly evoke the by-gone atmosphere of the text and the setting. However, the rapid pace of the story, the short chapters, the universal theme of children wanting to be reunited with parents and the interesting and unusual characters, ensure this is a story that will appeal to the contemporary reader in the upper primary to lower secondary age bracket.
Whimsy and Woe is a fun read and, while the story remains unresolved at the end of this text, Book Two is promised for 2018.  Many young readers will be waiting expectantly for the continuation of this entertaining and exciting romp.
A Teaching Guide can be found on the HarperCollins website.
Reviewed by John Nolan