Maree Coote, When You Go To Melbourne, Melbournestyle Books, March 2021, 24 pp., RRP $17.99 (pbk), ISBN 9780648568421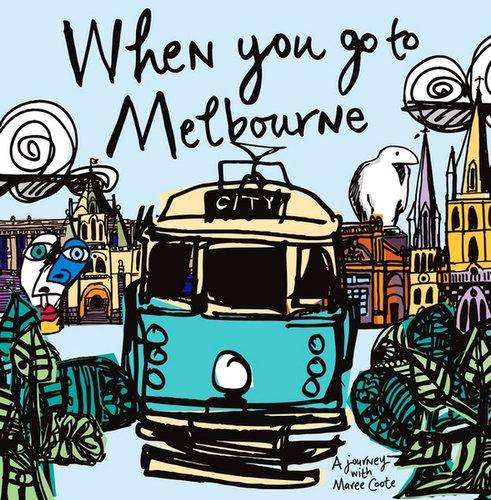 When You Go To Melbourne is an enthusiastic celebration of Melbourne's unique sights and tourist attractions. It is written and illustrated by Maree Coote, who has produced several beautifully illustrated and unusual award-winning picture books, including some with fascinating letter art pictures. When You Go To Melbourne is another example of Coote's extraordinary artistic talent.
Each double-page spread represents a specific feature of Melbourne – ladies' hats on Flemington Race day, outdoor sculptures, historic buildings, trams, street art and more. The pages are filled with brightly coloured images with bold, black outlines, arranged seemingly chaotically and randomly on the page, but certainly evoking a sense of the hustle and bustle of the City. I paged through the book several times, looking for solutions to clues in the images or just enjoying its surreal, playful feel. I was also surprised to discover that Coote has made the book even more interactive by hiding small doodles in the images and providing a list of landmarks to find in the book.
The main text has the format of a rhyming poem, with each verse starting with the words "When you go to Melbourne, See if you can see : .…" In this way, the text refers poetically to its accompanying images. In addition to the structured text, there are speech bubbles, with playful, humorous quips, scattered through the images, spoken by statues, occupants of buildings, seagulls or sightseers. The speech bubbles also hint at what the images represent.
I love the way this book evokes the charm of Melbourne and its main attractions, without getting bogged down in the detail. Instead, it implicitly challenges the reader, through clues and hints, to find out more or, better still, visit Melbourne and experience the city for themselves.
When You Go To Melbourne is a fabulous introduction to Melbourne for any children (or adults) old enough to understand and appreciate the historical or cultural aspects of a city.
Reviewed by Barbara Swartz