Wendy Orr, Cuckoo's Flight, Allen & Unwin, March 2021, 288 pp., RRP $16.99 (pbk), ISBN 9781760524913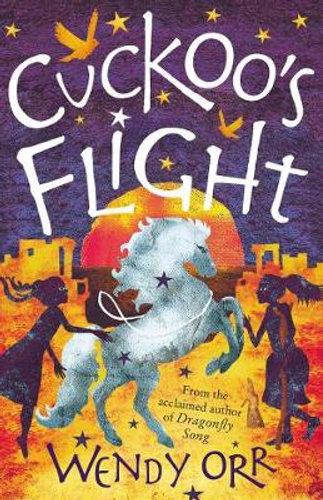 Cuckoo's Flight, like its predecessors award-winning Dragonfly Song and Swallow's Dance, is set in Bronze Age Crete. Clio, the main protagonist, has a disability – she needs to walk with a crutch after a devastating fall from her horse. But she, like girls in the previous two books, is brave and a feisty hero. In this, she is joined by Mika, a fisher girl who has no real status in the town where Clio lives and that is ruled over by the Lady.
The women in Clio's family are potters, an important craft in this town, Leira, Clio's grandmother, plays a pivotal role in the action as she, once a priestess, makes a statue of a goddess that, she and the family hope, will take the place of the human sacrifice of one of the girls of Clio's age. In making the statue, Leira dies but her presence continues to be felt by Clio who is guided in many actions by the sound of her grandmother's voice in her head.
Mika is bullied and physically abused by her brother who demands that she steal the horses belonging to Clio and her family. Mika's family is contrasted with Clio's own loving and supportive family. However, when raiders' ships are sighted and some of the raiders even come on shore, Mika's brother decides where his loyalties really lie. The raiders are a constant brooding danger in the story as they are in Orr's previous Bronze Age books. Mika, who like Clio loves horses, is crucial in saving the town as she rides one of Clio's horses. The bond between humans and animals is a significant factor in the success of the adventure the girls undertake. The build up to the battle and the battle itself form an exciting dénouement in the story.
As with the previous books, Orr uses poetic prose interspersed with spare but powerful verse to evoke a vivid picture of the times. Culture, religion and the customs of Bronze Age Crete are strongly researched and powerfully drawn. The different strata of society are colourfully depicted from the slaves to the Lady and her attendants with many levels in between. The book also considers notions of friendship and loyalty – if Clio makes friends with Mika, for example, how does that affect her long-standing friendship with Delia, the girl ultimately chosen to be the sacrifice?
This is a multi-layered book, exploring disability, acceptance, difference, courage, bullying and brutality. It is a beautifully written historical novel in which many of the themes will resonate with today's readers.
Reviewed by Margot Hillel