Lesley Parr, When the War Came Home, Bloomsbury, March 2022, 320 pp., RRP $14.99 (pbk), ISBN 9781526621009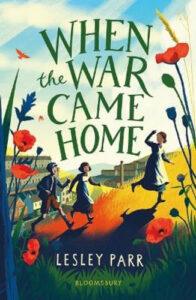 When the War Came Home is set in the period after the first World War and is told through the eyes of a young Welsh girl called Natty. It is the second children's novel from Welsh author, Lesley Parr.
When Natty's Mum loses her job at the factory and is unable to pay the rent, they must move to another village and live with Natty's Aunt, Uncle, and cousins. Though unhappy with her Mum for the upheaval and adjusting to life with her ultra-chatty cousin Nerys, Natty makes new friends with two recently returned soldiers. One is her cousin Huw who is suffering post-traumatic stress whilst the other has completely forgotten who he is. Natty is able to make connections with these troubled men and becomes an unlikely ally in their recovery. In addition, Natty is involved in the fight led by her cousin Nerys for better conditions at their local school.
This story incorporates a lot of social issue material for discussion. From the fight for better working and education conditions, power imbalances at institutions, the emotional and mental effect of war and poverty, Parr captures the challenges and changing mood of society of 1920's Wales. Young readers would be able to relate to Natty's feelings as she encounters these difficult issues and begins to make sense of them.
The book maintains a good plot momentum, however I found the character development to be a little unconvincing and simplistic at times, even for a children's novel. The inclusion of Welsh words was a nice touch, though a glossary/end notes would have been handy to assist with meaning and pronunciation.
Reviewed by Julie Bertola