Teena Raffa-Mulligan, The Parent Tamer, Dixi Books, November 2021, 128 pp., RRP $29.50 (pbk), ISBN 9781913680282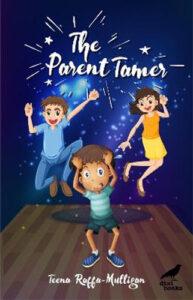 What if your parents spent all their time being silly and having fun instead of being responsible adults? They won't get out of bed in time for work, squabble over everything, mess up the house, play on their screens instead of doing their jobs, keep Mike awake all night with karaoke and have even started wagging work. Mike thinks his parents are embarrassing and he's had enough of being the sensible one in the family. It's time to get some help – enter Talibut Vish, parent tamer. But there is something mysterious and rather creepy about Vish. And will perfect parents make Mike happy?
If ever there was a case of don't judge a book by its cover, this is it. When I first saw this book I wasn't inspired. The cover art looked amateur, and I expected the story would be corny. But I was so wrong. The humorous plot turns the tables on toddler taming, with the protagonist totally flabbergasted by his parents' bad behaviour. But the sinister Vish adds another dimension and the mystery totally drew me in. Strap yourself in for a funny, fast paced adventure, full of twists and turns and dripping with suspense. An easy-to-read junior novel, recommended for primary aged students.
Reviewed by Sharon Seymour