Tim Minchin (text) and Steve Antony (illustrator), When I Grow Up – Special Edition, Scholastic Australia, November 2020, 32 pp., RRP $29.99 (hbk), ISBN 9781743834114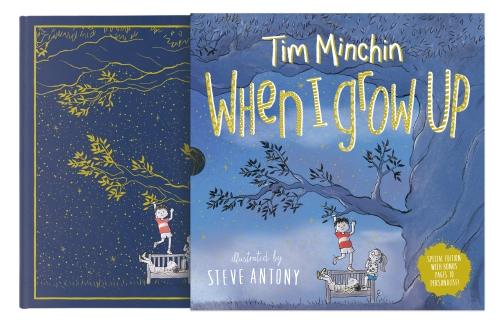 If readers were lucky enough to see Tim Minchin's hit musical Matilda, based on the beloved Roald Dahl book of the same name, the words in When I Grow Up will already be familiar. Taking the lyrics from the much-loved hit song and pairing them with imaginative illustrations, When I Grow Up is a wonderful picture book that portrays adulthood as seen through the eyes of a child.
The gentle humour and insight in this book engage adults and children on different levels. The assumption that adulthood involves being smart enough to answer all the questions that you need to know the answers to before you're grown up, always makes me smile. As does the idea that goals for adulthood include eating sweets every day on the way to work and playing with things that mums pretend that mums don't think are fun.
The colourful cartoon illustrations depict children in many situations from adventurous to silly to contemplative. Care has also been taken to ensure a diverse cast of characters are represented.
I was lucky enough to receive the new special deluxe edition which comes in its own slipcase. The covers of both are decorated with gold foil, making it the sort of book that could be given as a special gift. The final pages contain blank space for children to draw or write, with prompts such as "I will be brave enough…" and "I will be tall enough…".
When I Grow Up is a beautiful book that both children and adults will love, regardless of familiarity with the musical. Recommended for people from 2 years old to grown-up.
Reviewed by Bec Blakeney