Michelle Worthington (text) and Veronica Montoya (illustrator), Dino Love, New Frontier Publishing, December 2020, 32 pp., RRP $16.99 (pbk), ISBN 9781922326119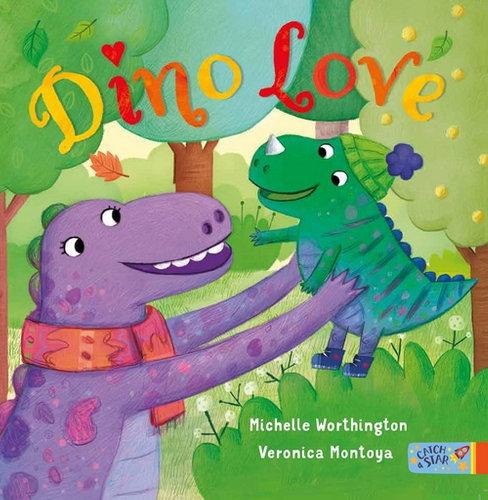 Here is a picture book where the text is not a literal telling of the actions that are taking place in the illustrations. The text describes what love is – goodbye hugs, saying I'll miss you, being brave. Love isn't about outward appearances but how you feel inside. The illustrations show a small child (an anthropomorphised dinosaur) being dropped at school by their mother and younger sibling. What follows is a typical day – schoolwork, eating lunch, playing, being picked up, going to the park after school, and back home. The descriptions of what love is do not align with what is taking place in the illustrations.
The main appeal of this book lies in the illustrations. They are bold and colourful and the dinosaurs are full of child appeal, with happy faces. They come in all shapes and colours, some recognisably a particular kind of dinosaur. There is comfort and enjoyment in this safe routine – although the young dinosaur is slightly sad to be left at school, they enjoy their day being with their friends. A feeling of cosiness is created by having it set in the autumn – falling leaves, autumn colours and woolly knits make this a book to cuddle up with. It should be a popular addition to home, pre-school, and public libraries. 
Reviewed by Rebecca Kemble