Melina Marchetta (text) and Deb Hudson (illustrator), What Zola did on Monday, Puffin Books, June 2020, 96pp., RRP $12.99 (pbk), ISBN 9781760895150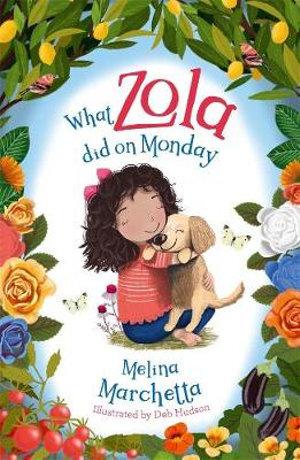 Zola is a young girl who tries but doesn't always get things right. Although her nonna enjoys gardening, Zola doesn't much care for it – she thinks Nonna has too many rules. But when a series of mistakes leads to Nonna's special garden patch being ruined, Zola finds a way to make things better again.
What Zola did on Monday is the first book in an early-reader series by Melina Marchetta, author of Looking for Alibrandi. Throughout the book, Marchetta ties in themes of family, sustainability, and community. She also gently touches on grief and loss. And although there is a simplicity to the writing, it is full of warmth and feeling. 
The text is clear and well-spaced with only four or five words per line to help young readers keep their place. The accompanying illustrations by Deb Hudson also help to break up chunks of text and aid comprehension of the story. I particularly like these bold grey-scale illustrations and feel they help carry the new reader on their journey from picture to chapter books, with some of the illustrations being double-page spreads.
At the end of the book, instructions for saving and planting tomato seeds are included, giving children an opportunity for hands-on learning about sustainability.
With a new adventure for every day of the week, there are more to come in the series. I'd recommend these books for children from around 5 years old.
Reviewed by Bec Blakeney