Kate & Jol Temple (text) and Ronojoy Ghosh (illustrator), Bin Chicken, Scholastic Australia, May 2020, 24 pp., RRP $17.99 (hbk) ISBN 9781743830048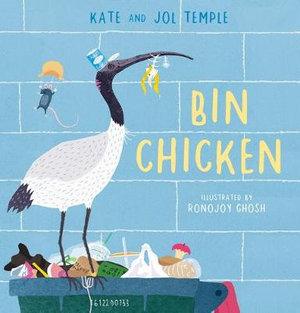 Bin Chicken is an absolute gem of a picture book on so many levels. Written by award-winning authors Kate and Jol Temple, with exquisite illustrations by Ronojoy Ghosh, this book is a brilliant ode to the much-misunderstood ibis bird.
In an ancient land, many moons ago,
Where Pharaohs rule and palm trees grow,
Lived a sacred bird with feathers all white,
an elegant beak and wings of a kite.
She sunned herself on the banks of the Nile… But today she sits… on a rubbish pile.
This clever, rhyming tale explores the origins of the elegant African sacred ibis and how this long-legged wading bird came to be in playgrounds, parks, and rubbish bins everywhere today.
As the story unfolds, pigeon, crow, sparrow, and seagull all echo the common prejudices held by so many of us about this notorious bird, whilst ibis literally rises above all the insults on her broad, soaring wings.
Diving in dumpsters, traipsing through trash!
Rummaging through rubbish, making a splash!
'Revolting!' they snort, starting to sicken,
'Trash Turkey! Dumpster Duck! Bin Chicken!
Ghosh's sublime digital illustrations depict this proud creature and her fluffy chicks as their backdrop shifts from the scorching wading shores of the Nile to silhouetted pastel cityscapes and delicate sunsets. The ibis birds and their brightly coloured piles of rubbish stand out stark and vibrant from the pages as the expressive characters interact using placards and speech bubbles. As the other birds pour scorn and hurl insults, one little rat rightly worships our ibis female whist she wears an upturned tuna can upon her head to remind us of her faultless evolution from queen of the Nile to queen of the rubbish pile.
This beautifully written, funny verse and awe-inspiring illustrations give young readers a glimpse into the fascinating life of the ibis bird and reveal the remarkable ways in which this animal has been able to adapt and survive to its changing environment.
Written for anyone who's ever had their lunch stolen by a bin chicken, this is a transformative picture book encouraging young readers (3 years +) to explore the unique wonders of nature and to take a compassionate look at the nurturing, survivalist nature of these incredible creatures.
Reviewed by Lisa Mercer