Kathryn Apel (text) and Mandy Foot (illustrator), What Snail Knows, University of Queensland Press, March 2022, 224 pp., RRP $14.99 (pbk), ISBN 9780702265464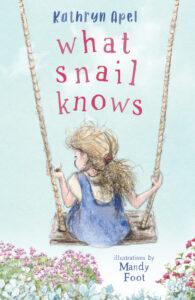 It's not often that kids in junior fiction come from homes where parents struggle to put food on the table. But this is the territory covered with humility and grace in Kathryn Apel's latest verse novel What Snail Knows. Lucy lives with her dad in a caravan park and since the death of her mum, her father has encouraged her to keep to herself.
'We do all right, Lucy,' Dad said.
'just you and me.' 
It's no wonder Lucy adopts a pet snail to keep her company while her dad is off working. But Lucy's kindness and inquisitive nature ensures she makes friends – at school and in the caravan park – in spite of her dad's reticence.
The beauty of this slim volume is that it packs in many themes. The environment is one that is likely to resonate with the target audience, with Lucy's class learning to make their own bees wax sandwich wrap and helping the local Toad Busters.
The main theme of grief is supported by Mandy Foot's emotive black and white-line illustrations. Between the story and Foot's divine portrayal of Lucy, the novel is an emotional yet ultimately joyful read.
Reviewed by Heather Gallagher