Kat Patrick (text) and Hayley Wells (illustrator), The Spectacular Suit, Scribble Kids' Books, August 2021, 32 pp., RRP $24.99 (hbk), ISBN 9781742035918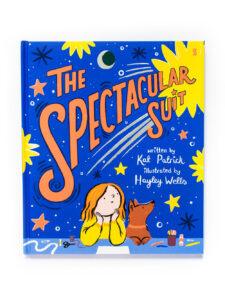 It's almost Frankie's birthday and her party has been planned and organised to the last detail. It's the first time she's asked for a party and she wants everything to be just right! Her mother, brother and sister are all helping out so that it will be a big success.
There's only one thing left to decide on – her outfit. Her mother gives her three dresses to choose from, but Frankie hates them all. She wants something that feels right. Her brother doesn't understand and her sister suggests wearing her favourite jumper. But Frankie wants something really special, something spectacular to go with her party. She doesn't know how to ask for it, but luckily, she has an observant and caring family. On the morning of the party, she wakes up and wonders if it's too late to cancel… but then she sees it hanging on her wardrobe – a spectacular suit! It's exactly what she had pictured, and Frankie is able to enjoy her party in an outfit perfect for her.
This is a very enjoyable picture book. The story is well written and paced, with tension but a happy ending. Frankie is a relatable and engaging character. The illustrations have a retro 1960s feel, and are full of bright colours and child appeal. Recommended for primary school and public libraries.
Reviewed by Rebecca Kemble