Idan Ben-Barak (text) and Philip Bunting (illustrator), We Go Way Back, Allen & Unwin, August 2021, 36 pp., RRP $24.99 (hbk), ISBN 9781760526085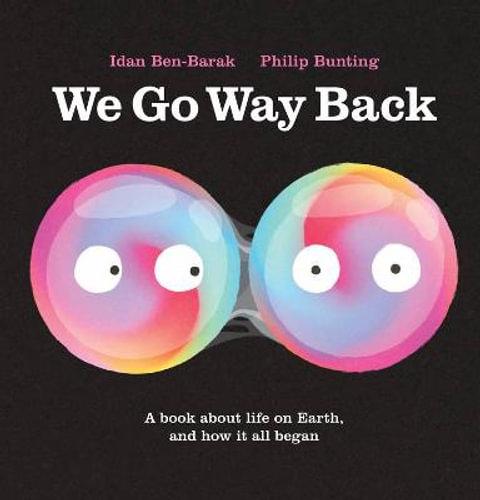 This is, as the cover says, a book about life on Earth, and how it all began. The cover illustration is intriguing and inviting with two colourful bubbles, slightly intertwined with one eyeing the other and the second looking straight at the viewer. The opening page directly engages with the reader, suggesting a whole range of different people all of whom have one thing in common – they are alive. The book then goes way, way back in time to when the Earth was just rocks and water with no living things. Gradually molecules form from the elements in the water, form bubbles, bubbles which replicate themselves and these in turn gradually (over billions of years as the book explains) become other kinds of things in the water. Over many more years, other shapes develop into all the different creatures on Earth, living in all the different places on Earth, not just in the seas.
The design of the book changes from a pale cream background to the illustrations to black as a child metaphorically looks back in time to the beginnings of life on Earth. To do this, they look through a Heath Robinson-type contraption. A double-page spread illustrates and describes what is happening – volcanoes, seas and rivers and meteors – are all shown in globe-like illustrations. The layout of the book uses double-page spreads very effectively, evoking the size and power of the changes taking place. The colours of the molecules and bubbles and then the other creatures are eye-catching and contrive to make the images appear to hang in the blackness of space. The final image is a fold-out, the equivalent of three pages but arranged vertically, suggesting a kind of tree of life with the one bubble described earlier at the bottom of the illustration and all the creatures flowing from that. The endpapers also form part of the story with the front one the iridescent colours of a bubble and the end one a black background with stylised stars and planets and, floating amongst them all, a tiny Earth labelled 'All of us.'
This is an intriguing book by award-winning creators – the author who gave us the delightful (and thought-provoking) Do Not Lick This Book and the illustrator/author who has produced such amusing (and also thought-provoking!) works as Mopoke and Who Am I?
Reviewed by Margot Hillel