Nick Bland, Walk of the Whales, Hardie Grant Children's Publishing, October 2021, 32 p., RRP $24.99 (hbk), ISBN 9781760509026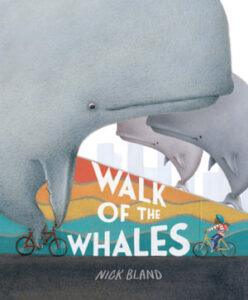 When the whales walked out of the ocean and into the cities and towns, well what should we do? Provide all the krill we could and make our trains larger? Nick Bland has delivered a beautifully crafted, original, and thought-provoking story about ocean pollution with imagination, truth, and humour.  The serious subject of waste building up in our oceans has been cleverly tackled by this simple story as it seeks to explain to this young audience how humanity, and our lifestyle, have affected the natural world.
The illustrations are a mixture of single and double-page spreads that draw readers into a world that they are now forced to share with one of the largest mammals on earth. They provide additional hilarity by depicting the trouble caused by such large creatures inhabiting familiar settings – local pools, restaurants, houses, trains, and swinging in hammocks between buildings.
The rhyming couplets make reading this book aloud a joy, and provide an opportunity for participation with a song-like refrain that begins and ends this very satisfying story.

Reviewed by Gabrielle Anderson (Early Childhood Judge 2022)