Andrea Rowe (text) and Hannah Sommerville (illustrator), Jetty Jumping, Hardie Grant Children's Publishers, January 2021, 32 pp., RRP $24.99 (hbk), ISBN 9781760500658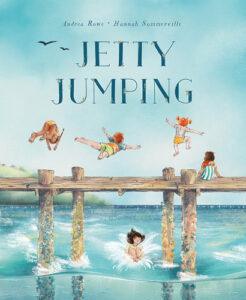 In the bay of a sun-kissed little town, Milla and a group of coast kids spend their weekends jetty jumping. Whilst her friends leap from the jetty into the cool, saltwater below, Milla stays behind, perched on the blistering wood, wondering what lurks beneath her in the deep, dark sea.
Bonnie twirls, Clementine dives, Matilda horseys, Clancy corkscrews.
But not Milla… Milla dangles her legs, bites her lip and twists her bracelet, out on the end of the towering jetty.
Everything changes when Milla accidently falls from the jetty and plunges into the sea. There, she discovers the beauty that lies below the surface and by the time she swims back up to join her friends, she is gasping for breath but laughing and wanting to jump again.
My children loved to learn that the author, Andrea Rowe, had a childhood fear of jetties and was herself scared of falling through the cracks. In this joyful picture book, the author tenderly explores those childhood challenges and fears, whilst celebrating the joy of overcoming and letting go.
Hannah Sommerville was selected for the CBCA 2019 Notables list for her illustrations in the picture book Digby & Claude and her playful watercolour illustrations of the Jetty Jumping children swimming amongst the barnacle encrusted pylons and glinting fish really bring this story to life and capture the very essence of those endless childhood summers.
Suitable for children 3 years and over, this picture book is a favourite with my young boys and would be a fantastic resource to prompt discussions about overcoming fears with younger primary children.

Reviewed by Lisa Hoad