Nick Bland, Walk of the Whales, Hardie Grant Children's Publishing, October 2021, 32 p., RRP $24.99 (hbk), ISBN 9781760509026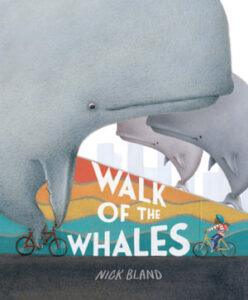 Have you ever dropped your Kit-Kat wrapper on the ground and thought… never mind? This book will make you think twice.
Award-winning author/illustrator Nick Bland, creator of The Very Cranky Bear series, Wolfred, and The Wrong Book, returns with a humorous exploration of an important message. What happens when the environment starts treating us the way we've treated it?
The text follows the havoc that ensues after a pod of whales make their way out of the ocean, into swimming pools, train carriages, fish shops and restaurants. In true Nick Bland style, there are genius rhymes and turns of phrase filled with humour. The man selling fish was delighted… and the lady who rented out bicycles was pumping up tyres a lot.
These lines carry the overarching messages of the book (pollution, environmental consciousness and what it means to be othered) lightly, rather than being didactic.
Attention to detail and the depth of the illustrations carry these messages even further. Readers will be immediately struck by the lush opening scene of the book, will laugh out loud at what a bike helmet looks like on a whale, and will be filled with emotion at the depiction of a single whale tear.
Overall, a funny and enlightening read. One that reminds us of the power of conversation, and to never forget about those with whom we share the world.
Recommended for readers aged 5 years old and up.
Reviewed by Sarah Stivens