Felice Arena and Garry Lyon, Specky Magee, Penguin Random House Australia, March 2022, 192 pp., RRP $16.99 (pbk), ISBN 9780143777168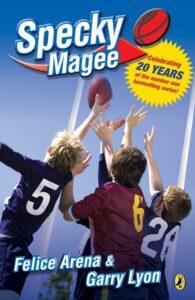 Simon Magee is 12 years old and plays Aussie Rules. No, he lives and breathes it.
This is the 20th anniversary edition of a classic novel that takes young readers out to the Aussie Rules football field, where Specky plays (and plays well) and wants nothing more than to share his love and joy with his family, and above all else his father.
However, his father who runs a gallery is interested in anything else but Aussie Rules. Which means, Specky is incredibly confused when he finds a picture of himself as a baby, dressed head to toe in footy gear. How could that be, he wonders, and jumps to the conclusion he must be adopted.
That is quite a leap for him to make, but soon enough it becomes clear that Specky is in fact adopted. His parents' caginess over the details of his adoption sends his mind into overdrive (not in a good way). Readers are taken through his search for his biological parents, and how much he wants to find someone with whom he can share his love of footy. Reading the book, it struck me that Specky seems to be a lonely kid, desperately searching for a connection and a place to belong – where he and his love of Aussie Rules makes sense.
This is a very Australian novel and is a fun relatable read for young readers who are down at the oval every Saturday morning, being cheered on by their parents.
Reviewed by Verushka Byrow