Anh Do (text) and Jules Faber (illustrator), Vote Weirdo (WeirDo #14), Scholastic Australia, April 2020, 160 pp., RRP $15.99 (pbk), ISBN 9781743836668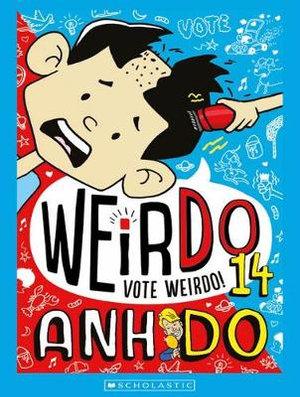 People might wonder if getting to book #14 in a series is a huge achievement or is just going a bit over the top. How many new situations can your character be in? Is it still funny? Will the audience still have an appetite for the series? 
Perhaps for literary series for adult books, #14 might be a bit stale, but for kids, both established readers and those still building their fluency, there is a huge interest in their favourite characters. Some of the most popular series in the Australian children's book landscape have reached similar milestones. For example, Billie B Brown has 20 in the chapter book box set and 3 more are just being released. By reading books from big series, kids gain confidence, they can learn to predict what might come next and they build their reading skills while following characters in which they feel invested.  
In Vote WeirDo we see the characters handling the tricky political challenge of voting for a class captain. This situation will be familiar to kids either in their own life or from books. When their teacher calls for nominations Hans Some and Bella Allen are soon put in the running and Weir's friend Henry nominates him for the job too. Then the classic Weir antics begin when his dad offers him a fresh haircut.  
One thing I really like about this series and Anh Do's books, in general, is that kids can pick up any book from the series and read it pretty easily without having read any of the earlier books. I also love the way the child characters have self-confidence, they speak up, they fail but overcome.
If you're not sure if your child is ready for chapter books this is a great starting point. There are plenty of illustrations to help with the comprehension of the story. The story is fast-paced and funny. And the bonus is if they love it there are 13 other books they can sink their teeth into.  
My 10-year-old who is capable of reading books more complex than WeirDo saw this new addition to the series and was super keen and whipped through it over breakfast one day. If your child does read and enjoy Vote WeirDo and is ready for a more challenging read perhaps you could consider Funny Kid #1 Funny Kid for President.  
Reviewed by Cherie Bell