Lana Spasevski (text) and Nicky Johnston (illustrator), Upside Down Friday, EK Books, April 2021, 32 pp., RRP $24.99 (hbk), ISBN 9781925820850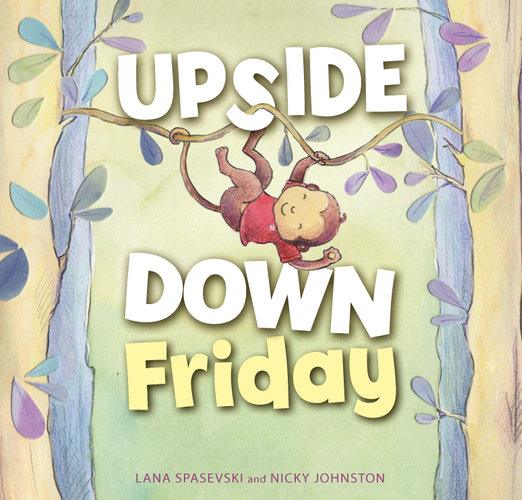 Hugo the monkey does not like Fridays.
Fridays are upside-down and everything is different. Lunchtime is morning teatime, morning teatime is lunchtime, and there is no fruit break. There is just no making sense of Friday, that is, until Hugo meets Maddison the giraffe.
Will Hugo learn to love Fridays with Maddie's help?
Lana Spasevski brings us an engaging read for preschoolers and kindergartners. The animal kingdom is a tried and tested world of connection that resonates strongly with young children, and Lana uses it effectively to demonstrate the topsy-turvy feelings that can come with change. The text is easy to read and has a great sense of emotion as Hugo navigates his feelings.
Nicky Johnston's illustrations are fun and immersive, and visually captures Hugo's turmoil when he gets to school and has to face the upside-down day. The soft tones flow well throughout combining perfectly with Lana's easily accessible text, creating a seamless synergy.
Exploring themes such as change, resilience, and friendship, the 'upside-down' concept is used effectively to show the emotions and feelings young children may have when things are out of control or different, and how friendship can help them through challenging times. A set of teacher's notes offers some useful insight to the themes explored and a connection to literacy and numeracy outcomes for classroom activities.
Upside-Down Friday is a relatable story for young and old about the importance of emotional wellbeing, and a useful resource for teachers, librarians, and parents to help guide young children through feelings of anxiety when things just don't go to plan.
Reviewed by Shelley Stephens