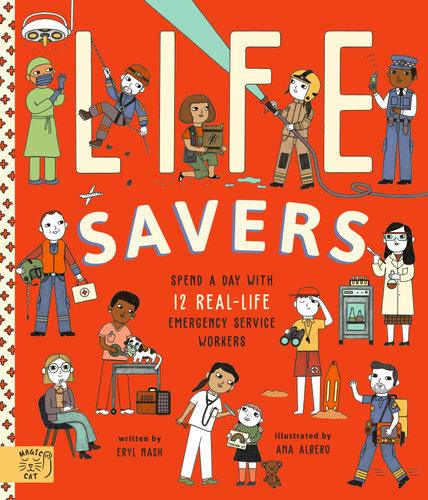 The COVID-19 pandemic has shone media attention on frontline workers the world over, who use their skills and dedication to help those in need. This common-sense non-fiction picture book recognises twelve such people from an imaginative selection of health/emergency professions. We meet Koen, the Netherlands Lifeguard, Gabrialla, the Italian Aid Worker and Ahsan, a Surgeon from Pakistan to name a few. These are real people, with photo acknowledgements at the back and the book carries a practical and exceedingly informative approach throughout.  
The unique graphic novel style presents readers with concise and easy to understand accounts of a day in the life of each worker; a brief storyboard of them at work plus a facing page dedicated to the kit they require to perform their duties. I loved searching for 'my most important …' within the charming illustrations. Readers are never talked down to. They may not understand all the words but are encouraged to find out more. There is an inspirational foreword from NHS Doctor and British celebrity, Dr Zoe Williams, and a resources page with website addresses for further research at the back.
Recommended for readers 8+ years.
Reviewed by Liz Anelli