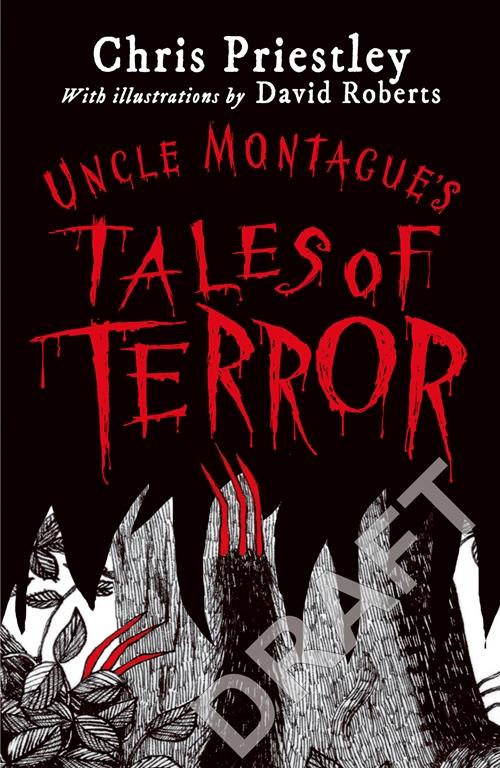 Chris Priestley (text),  David Roberts (illus.), Uncle Montague's Tales of Terror, Bloomsbury/Allen & Unwin, Dec 2016, 250pp., $14.99 (pbk), ISBN: 9781408871096
In the holidays, Edgar is drawn to visit his enigmatic uncle, who lives in the woods in a gloomy mansion called Pity's End. The shadowy interior is cold as a tomb, save for his uncle's museum-like study where Edgar feels compelled to sit in front of the fire and listen to Montague tell strange and gruesome tales about the extraordinary artefacts that adorn the shelves and mantle.
There is a sense of foreboding from the start. Things are not quite right at Pity's End. There are mysterious scampering sounds, things that disappear, Montague's curious behaviour, and the illusory servant, Franz, always lurking just out of Edgar's sight. Edgar comes to suspect that there is a sinister connection between his uncle and his unsettling tales. Could the most disturbing tale be his uncle's own?
All manner of evil awaits in this book. There are demons, witches, ghosts, jinns and magical objects. From the very first story I realised there would be no safety net for the reader as the protagonist meets an abrupt end. This is a tale within a tale. The overarching narrative is told in first person by Edgar, of his experience with his uncle. Within this, Montague's deliciously dark and twisted short stories are of unfortunate, though sometimes deserving, children whose fate is entwined with one of the spooky objects in the study. The gothic, Poe-like tales are full of rich vocabulary, lexicon of a past age. I savoured every story and am now looking forward to reading the next two books in the series, Tales of Terror from the Black Ship and Tales of Terror from the Tunnel's Mouth.
Recommended for readers aged 10 and up who like to scare themselves silly.  N.B. This is a new edition of the original, which was first published in 2007.
Reviewed by Sharon Seymour