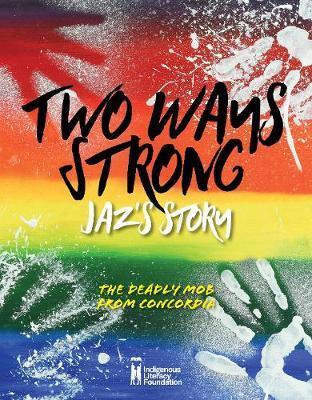 The Deadly Mob from Concordia, Two Ways Strong: Jaz's Story, Indigenous Literacy Foundation, 25 July 2017,  48pp.,  $14.95 (pbk),  ISBN: 
9780994465467
Two Ways Strong : Jaz's Story is a short story about Jaz who is fourteen years old and lives on idyllic, remote Palm Island surrounded by loving family and friends. Jaz is dismayed when her mum tells her that she will be leaving home after the summer holidays to attend Concordia boarding school far away on the mainland because, as her mum explains, "… you're smart, real smart and I want the best for you."
The book is published by Indigenous Literacy Foundation with the help of a group of Aboriginal students from Concordia Lutheran College, who call their group The Deadly Mob from Concordia. Together they have created a well written and interesting short story about a teenager feeling ambivalent about her new opportunity and struggling to adapt to many challenging changes in her life – from being separated from her family to dealing with a new school environment, and meeting new people. In the end, Jaz feels satisfied that she has become stronger by facing her difficulties and adapting to boarding school.
The characters are developed through dialogue which sounds authentic and Jaz's character and her emotional reactions seem genuine. The book poses valuable examples of how to cope with difficulties by seeking support and advice and by finding caring friends with whom one has common interests.
Whilst the story would be of specific interest to children and teenagers who have an Australian Aboriginal background, there are also universal themes of change, challenges and friendship that anyone could relate to. For non-Aboriginal young people, this book provides a valuable insight into some Aboriginal traditions, such as connection with ancestors, and examples of some common life experiences of young people from Aboriginal communities.
It is a short, easy to read story of 48 pages which makes it a good option for teenagers with low literacy.
This is the first book by the Indigenous Literacy Foundation that I have read and I have been quite impressed. I was not surprised to read that they have recently been nominated for an Astrid Lindgren Award.
Reviewed by Barbara Swartz