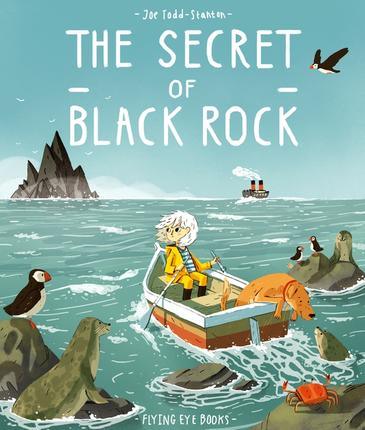 Joe Todd-Stanton, The Secret of Black Rock, Walker Books Australia, 1 July 2017, 32pp.,  $24.99 (hbk),  ISBN: 9781911171256
The Secret of Black Rock is a beautifully illustrated picture book about Erin, who disregards adult warnings to avoid the dreaded Black Rock out at sea.  When her mother goes out fishing, she hides on her fishing boat in the hope of catching a glimpse of Black Rock. One foggy day she sees Black Rock and as the boat swerves to avoid it she is thrown overboard, sinking into the depths of the ocean.  But Black Rock takes on human characteristics returning Erin to safety.  She discovers that Black Rock is not only well-intentioned, but also supports an array of beautiful, diverse sea life.   Now she must save Black Rock from the fishermen and fisherwomen's plans to destroy it. And so, a suspenseful tale follows of a single "little" person overcoming the might of a huge enterprise.
Joe Todd-Stanton employs strong imagery to convey the story and pass on messages about anti-discrimination and environmental preservation.  Whilst Black Rock appears jagged and threatening from above the surface of the water, below the surface it is portrayed with a human like body and a gentle and serene facial expression.  It is surrounded by a soothing and calming environment of beautiful, floating sea creatures. On the other hand, the huge ships with their enormous metal claws and drills, sent to destroy Black Rock, are depicted as menacing and powerful.
I enjoyed the book's bold and detailed full-page illustrations, beautiful cover and endpapers which are reminiscent of Tintin comic books. Whilst the environmental and anti-discrimination themes will be better appreciated by adults, younger children will enjoy this story of a child's courage to act against prejudice to prevent tragedy.
Reviewed By Barbara Swartz