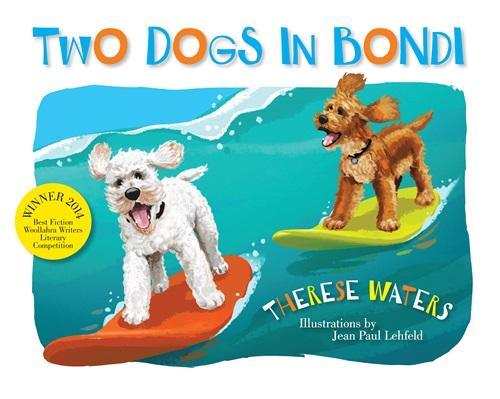 Therese Waters (text), Jean Paul Lehfeld (illustrations),  Two Dogs in Bondi,  Green Olive Press, 1 September 2014, $19.95(pbk),  28pp.,  ISBN 978-0-646-90171-8
The cover of this cute and colourful book advertises that it won the Best Fiction prize at the Woollahra Council's Writer's Literary Competition, and I can see why it would appeal to a local audience. It is a fictional story of anthropomorphised dogs based on the local canine scene in Bondi. Two mixed poodle friends want to learn how to surf, but the beach is dominated by stereotypical territorial surfer 'Staffies' (Staffordshire bull terriers). The book follows the challenges they face, the lessons all the dogs learn, and has a happy and predictable ending.
Each opening has a page of writing facing a full page illustration, and the formatting has a journalistic style – caption on the illustrated page is a quote from the story; each page has a bold heading and two highlighted sections of text. These devices help break up the full pages of text which are long and wordy. The illustrations are bold and colourful, as are alternating pages, making it physically appealing to flip through but I wonder if that would hold the interest of young children through the large slabs of story.
Two Dogs In Bondi does not sit easily in the picture book category (too wordy; the pictures don't extend the text), nor as an early reader: the engaging elements would have been better served with more crafting to the genre, however with themes of friendship, facing fears, determination and co-operation, it is not without appeal – perhaps as much for the dog-loving adults as to their children.
The book has a colourful website where readers can 'meet' the real dogs of Bondi.
reviewed by Debra Tidball