Adam Cece, Twin Spin, Scholastic Australia, February 2019, 272 pp., RRP $16.99 (pbk), ISBN 9781742991856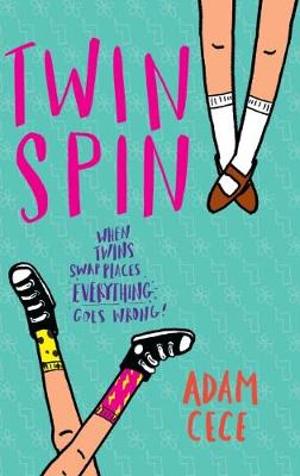 In Twin Spin, identical twin sisters Anna and Steph might look the same, but the similarities end there. The plot centres around a swift move pulled by one of the sisters, who steals the other's identity. So suddenly, the budding journalist Anna finds herself unwittingly stepping into rap-loving sister Steph's boy-band obsessed shoes and vice-versa! How long can they keep up the charade? Will anyone find out? Will they mess it up? What we soon learn is that Steph is the ring-leader of this case of identity theft, and that things are definitely going to get messy. A gorgeous and age-appropriate way of delivering a sweet message about learning about someone by walking a mile in their shows. Like, literally!
A fun romp for readers 7+, Adam Cece's style is engaging, just silly enough and full of suspense at every turn. My four year old loved having this read to him as well!
Reviewed by Belinda Raposo