Sally Murphy, My Australian Story: Bushfire, Scholastic Australia, February 2019, 183 pp., RRP $16.99 (pbk), ISBN 9781742994307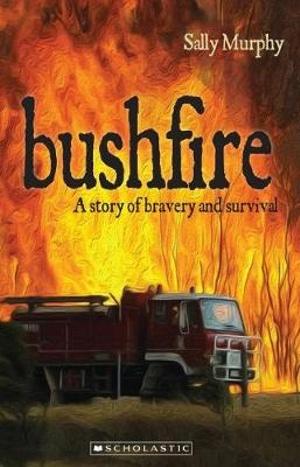 Bushfire by Sally Murphy is a fictional story based on the real events of the catastrophic 'Black Saturday' bushfires. In the summer of 2009, hundreds of devastating wildfires raged through the alpine bush terrain in Victoria, Australia. Bushfire is part of the My Australian Story series from Scholastic. It commemorates the 10th anniversary to remember the lives lost to the fires of Black Saturday.
In Bushfire we meet school girl Amy and discover her life in Marysville and Healesville. These were two of the towns devastated by the 2009 fires. We discover Amy's interests and daily life as a student. We meet Amy's family, her friends and her lovely relationship with her grandmother.
Amy's mother is a climate change scientist, and her dad is a volunteer firefighter. Amy's conversations with her parents provide an opportunity to include climate change science and bushfire preparedness in the story. Summaries of historical reports of the fires and other natural disasters are included in between chapters.
Sally Murphy creates a powerful and very important message about the unpredictability of natural disasters. Amy's family is very aware of the threat of bushfire. Yet, even planning and knowledge cannot shield communities from the scale of such fires.
A lot of care has been taken to include an authentic depiction of the fires in this book. This story will trigger an emotional response to anyone with memories of the Black Saturday or other bushfires. As I was reading Amy's story, my own memories of the Black Saturday fires from media footage surfaced. These scenes were haunting. Although my young family lived 800 km away from these fires, our terrain was eerily similar. Black Saturday prompted our move away from our rural property, after we also had fires nearby that summer.
In Bushfire Sally Murphy also explores the idea that catastrophic natural events may be something that we are exposed to more than once in our lifetime. The story explores how we respond to disaster and develop resilience and cope with immense tragedy.
In the classroom, this story could be used to explore themes of climate change, disaster recovery and practical bushfire preparation. Bushfire is emotional reading, carefully exploring the personal and community issues of living with the complex threat of fire in the Australian bushfire season.
Reviewed by Angela Brown