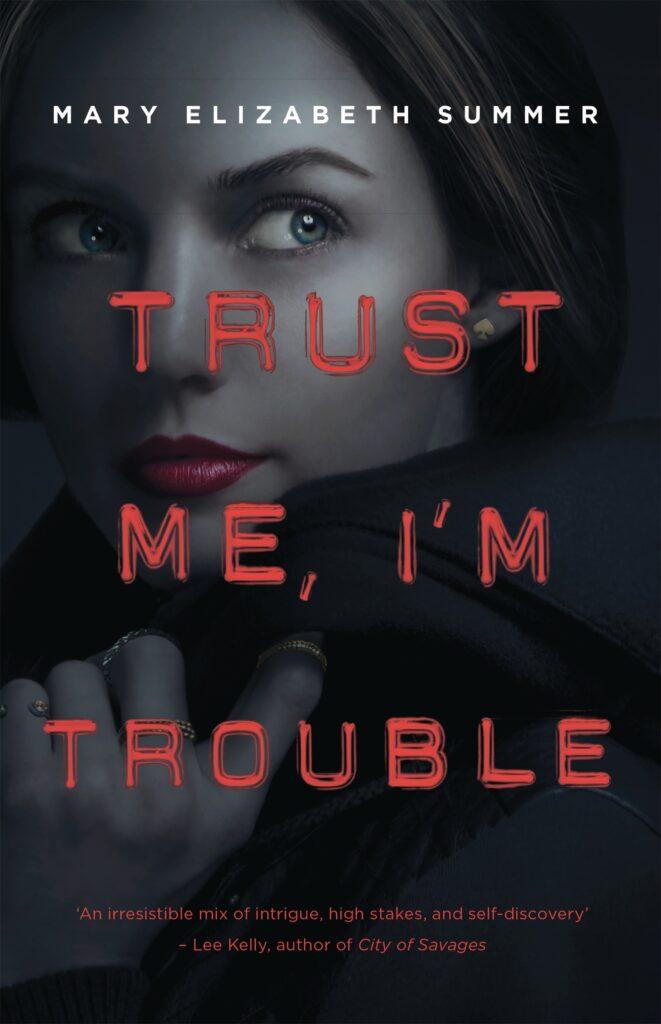 Mary Elizabeth Summer,  Trust Me, I'm Trouble,  Random House Australia,  1 Dec 2015, 368pp.,  $19.99 (pbk),  ISBN: 9780857989512
Trust Me, I'm Trouble is the second book in what is clearly a continuing series about a teenage grifter, Julep Dupree. I haven't read the first one, and while there are gaps, I was still able to work out how the previous book leads to the drama unfolding in this one. The author does a good job of including crucial details without being unnecessarily repetitive.
Julep's first person narrative voice keeps the story moving at a swift pace. She is a hands-on, action-oriented character. She tries to give the impression she prefers her 'lone-wolf' status, but clearly this isn't the case. She is obsessive about keeping her friends safe, to the point where she is more inclined to withdraw her friendship than put them in harm's way. Luckily they are made of sterner stuff.
I liked all the secondary characters comprising her team – snarky nerd Murphy and his disdainful elegant girlfriend Bryn, Ukrainian-born enforcer, Dani, and Julep's long-term, best friend Sam, who has deserted her at the beginning of this book to attend military school. Lily is the newest recruit to the detective agency, and Julep has no idea why, but grudgingly allows Lily to join them. Now we're off on a new adventure.
There is welcome humour through snark and pop references, but really, this is serious stuff. Julep and her team are often in danger, a reality that foster parents, FBI agent Mike and his wife Angela struggle to deal with. It's funny to watch these caring adults try to parent this young woman, who has been living by her wits for almost all her life. A curfew? Oh please. Do homework? Stop putting on a costume and using a fake name? By the end, Mike and Julep have learnt to negotiate a little bit, but I am not sure that will keep her safe. Not that she's foolish or reckless. It's more her fierce determination to make things right, and solve the crimes.
Running though the plot, is the undercurrent of the death of a character from the previous book. His legacy, his actions, and his care for Julep are strong reminders of what can go wrong when Julep doesn't control everything. This thread is important because when we see Julep start to have strong feelings for another character, she is constantly haunted by this death, which of course, affects how she handles this growing attachment (hint: not very well). There's also an arc involving Julep's missing mother, who is not as absent from Julep's life as she thinks.
This is a great mystery and thriller. The teenagers are realistic, even while their situation probably isn't. The conclusion sets up the next book, and probably more into the future. Recommended for young adults, who like their stories focused more on action and mystery, than on romance and happy-ever-afters.
Reviewed by Trisha Buckley