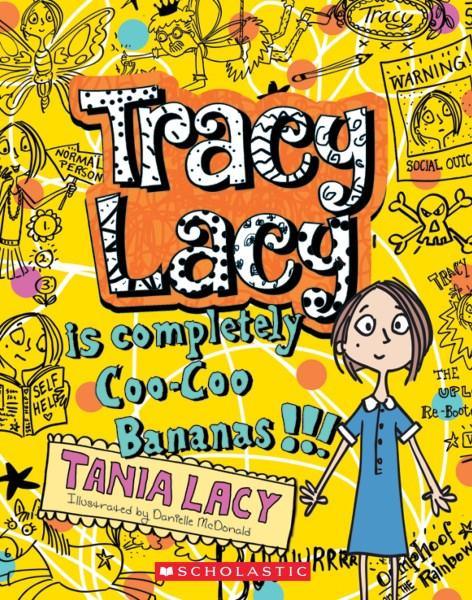 Tania Lacy (text),  Danielle McDonald (illus.)  Tracy Lacy is Completely Coo-Coo Bananas!!!,  Scholastic Australia,   1 Sept 2016, 288pp.,  $14.99 (pbk),  ISBN:  9781760156251
This quirky graphic novel is a thoroughly enjoyable, laugh out loud comedic interpretation of pre-pubescent struggles with identity. Or as Tracey Lacey would say, this is the bestest book ever!
Tracey Lacey is a twelve-year-old girl who has experienced enough 'socially catastrophic catastrophes' in her seven years of primary school to award her a terrible score on the HA-YA (How Awesome You Are) scale. But all is not lost! High School is looming and it offers a chance to start afresh, to change all the parts of herself that annoy those around her and render her a social outcast.
This wonderful story is fast-paced with a writing style that flows so skillfully it can be read in one sitting. The characters are developed so brilliantly from start to finish that I found myself experiencing a sense of pride at their achievements and individual growth.
The real charm of Lacy's story however is that the anxieties that plague burgeoning adolescence are highlighted in a humorous and accessible way for children. There were many examples that had me nodding my head thinking, 'Oh yeah, I remember that!' Such as the strongly held belief by Australian school children that they would be sent home if temperatures rose to forty degrees (if only this were true!).
The illustrations by Danielle McDonald are scattered across each page and enrich the entertaining anecdotes that make up this vibrant story. Not only are these graphics hilarious, they tell a story of their own making and are an ideal visual text.
Recommended for children from Year 5 upwards.
Reviewed by Katie Mineeff