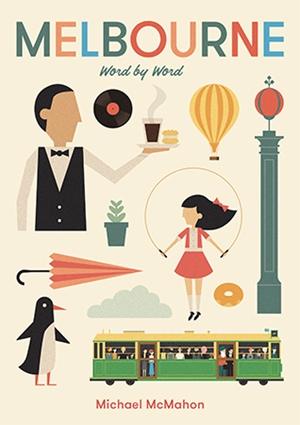 Michael McMahon,  Melbourne Word by Word, Little Hare/Hardie Grant Egmont,  1Sept 2016,  64pp.,  $29.99 (hbk), ISBN: 9781760126674
Idiosyncratic, quirky and retro are the first words that come to mind as I explore the sights, sounds and atmosphere of Melbourne in this beautifully produced picture book. Michael McMahon's 'retro style' graphic images matched with an eclectic mix of words act as mind maps for exploring the city in an interesting, adventurous way. With an adult at hand the young reader can find himself in discussion about summer in Melbourne or doing some bric-a-brac shopping, smiling at the entrance of Luna Park and walking down Victoria Street Richmond, to experience the Vietnamese community. This is a view of the city that the guidebooks don't show.
A freelance designer and illustrator McMahon works and lives in Melbourne. A Sydney version by a different illustrator has also been produced by Little Hare. Suitable for preschool to mid primary.  Highly recommended.
Reviewed by Mem Capp