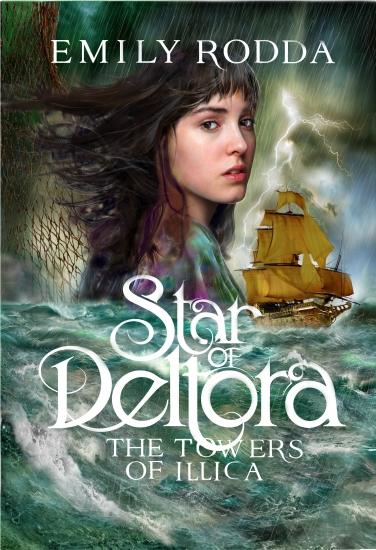 Emily Rodda,  The Towers of Illica (Star of Deltora #3),  Omnibus/Scholastic Australia,  1 April 2016,  176pp., $15.99 (pbk),  ISBN: 9781742990644
Emily Rodda (aka Jennifer Rowe) can do no wrong in my opinion!  Books for all ages that encompass many themes to suit any taste.
In this third book of the Star of Deltora series, Britta's most important trade is ahead of her; if successful she may gain the much coveted position of Apprentice Trader of the Rosalyn fleet.
Faced with many challenges, the main protagonist, Britta, is portrayed as a strong and adventurous female to which many girls of today will be able to relate. If I had to choose a favourite, Britta is definitely the character I would choose, with the powerful, yet discreet, character of Vashti being a close second. Each main character, good and bad, is carefully crafted with unique attributes. Both the strengths and weaknesses were portrayed by their actions and in this way help the reader feel connected to them, guessing what their reactions would be in each circumstance.
There are moments of indecision and distrust between the characters which made me wonder whether there were better paths of action for different events. Students could discuss alternatives to the decisions made by Britta and what the resulting consequences would be, select one alternative, create a visual storyboard and write the alternate story.
The books are written in a large font which is easy to read, although some of the spacing between words and lines were not consistent so would make it a little hard for reluctant readers to maintain the flow of reading. It is a very important point to consider… just as a few millimetres difference between stairs will make you stagger, so too will inconsistent gaps between words when you are trying to encourage children to become immersed in a story.
Just as enjoyable as this series is to me is the Star of Deltora website, where you can watch a trailer, read a sample and use the free collector cards to enter a competition.  Scholastic has yet to update the information about specific titles in the series.
Reviewed by Sharon Smith