Sally Rippin and Adrian Beck (editors) and Jules Faber (illustration), Total Quack Up Again!, Puffin Books, October 2019, 320 pp., RRP $14.99 (pbk), ISBN 9781760893583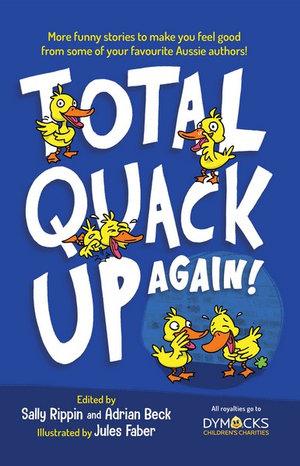 This book, like its predecessor Total Quack Up, was produced to raise money for Dymocks Children's Charities. All royalties from the sales of these books go towards providing high quality books to children in need, to improve literacy outcomes. To that end, Rippin and Beck have assembled thirteen funny stories from popular Australian authors, including Felice Arena, Nat Amoore, Belinda Murrell and Jules Faber.  
The stories are aimed at primary school ages, and as such are filled with fart gags and nose picking, but not all of them employ toilet humour. Kim Kane's Clean the car explores the extremes of a messy family car – guaranteed to resonate with parents everywhere. Coby Sanchez's The Duck Pond sees Derek the Duck secretly pursue a career in stand-up comedy. Most of the stories make good use of puns, which will be sure to elicit groans and eye-rolls, if not laughter.
This book should be popular in public and primary school libraries, and it's for a good cause.
Reviewed by Rebecca Kemble