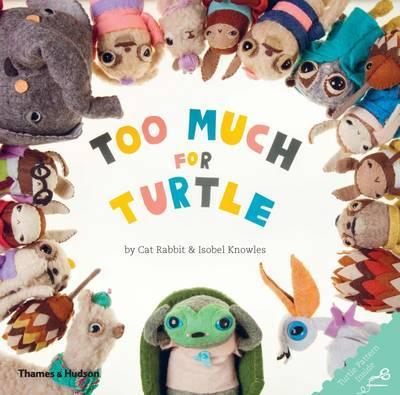 Cat Rabbit,  Isobel Knowles, Too Much for Turtle, Thames & Hudson, 1 April 2015, 32pp.,  $24.99 (hbk), ISBN 9780500500491
Turtle lives in a tree house because she is shy. When the flooding rain comes, her home is a safe place for a menagerie of creatures that pack in and create havoc, which they work together to fix later. Turtle unexpectedly makes friends and the creatures all decide to build their own homes safely high in the tree.
The storyline contains a crisis and happy resolution but is composed around a collection of animals that would not live in trees or be found together naturally.  Readers can overlook that inaccuracy because the illustrations of Turtle's tree house and all the creatures are captivating and so ingeniously created. Cat Rabbit is a textile artist who uses felt and stitching to create everything from bunches of carrots to shy Turtle wearing white socks and big sky blue shoes while peeking through her felt binoculars. Elephant in his bright red jump suit flourishes a cake he cooks on the stove created in cardboard, like all the furniture, rooms, and houses depicted, by Isobel Knowles.
Whimsical items in and around the tree houses ironically reflect some contemporary lifestyle preoccupations.  Tree house living is a tiny book included in the illustrations. So is a small National Geographic cover with a picture of Turtle's house. The illustrations show how the animals can even visit an Altitude Acupuncture clinic. An envelope containing a printed pattern and the directions to make a turtle is attached inside the back cover.  It is all great fun.
reviewed by Elspeth Cameron