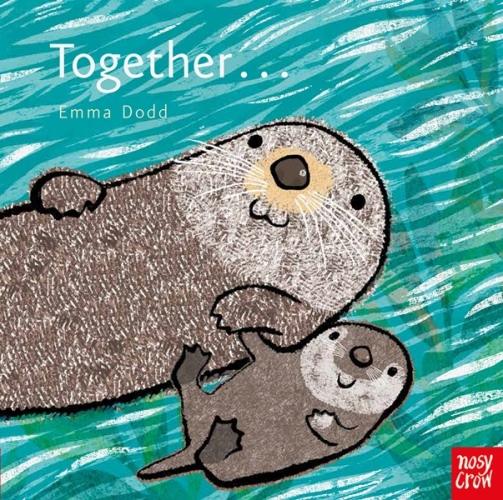 Emma Dodd,  Together…  Nosy Crow/Allen & Unwin,  May 2016, 24pp., $15.99 (hbk), ISBN 9780857635792
This is the latest title in Emma Dodd's Animal series following on from Happy, Love, Wish and Forever, to name just a few. Each one features a baby animal and parent.  Creatures in previous books have included polar bears, koalas, rabbits and wolves. This one has a sea otter and her baby.
In simple rhyming text, the adult recounts what they have done during the day, such as watching the rising sun and playing together, and concludes by stating that the days she will remember are the ones they have spent together.
This book is designed to be a tactile experience for young listeners as well as a reading experience. The cover is slightly padded and silver foil is used in several of the illustrations. The animals are drawn simply but effectively, outlined in black on backgrounds of marine tonings.
Layout and design are also uncluttered, with the animals being the feature of each double-page spread and few extraneous details to distract the eye. There are no endpapers or title page with obverse. The story starts inside the front cover and ends inside the back cover. While not a board book, the paper is thicker than usual and should be quite robust in a toddler's hands.
This is a lovely addition to the existing series but can easily be read on its own.
Reviewed by Lynne Babbage